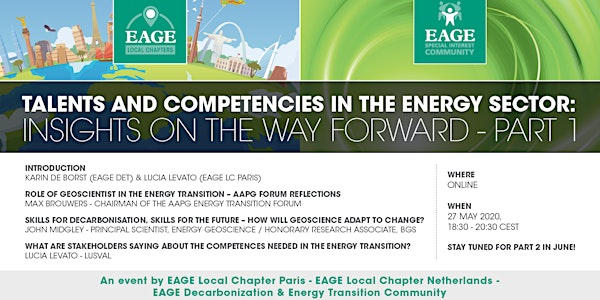 Talents and Competencies in the energy sector: insights on the way forward
Talents and Competencies in the energy sector: insights on the way forward - Part 1
About this event
An afterwork online event to stimulate a constructive interaction between geoscientists
Date: May 27th, 2020
Venue: Online through Zoom
Please note that registration is in 2 steps:
Book your seat by signing up here (registration via Eventbrite is necessary for organizational reasons ).
Use the Zoom link in your Eventbrite confirmation email for enrolling to the webinar. You will finally receive a Zoom email confirming registration.
Food for thoughts to professionals and students in geoscience by gathering different perspectives on the demand for geoscience competencies in the context of the energy transition.
A collaboration of EAGE Local Chapters Paris and Netherlands and of the Decarbonization and Energy Transition Special Interest Community.
Program:
Introduction
Karin de Boerst (EAGE DET-SIC) & Lucia Levato (EAGE LC Paris)
Role of Geoscientist in The Energy Transition – AAPG Forum reflections
Max Brouwers - Chairman of the AAPG Energy Transition Forum
Skills for decarbonisation, skills for the future – How will Geoscience adapt to change?
John Midgley - Principal Scientist, Energy Geoscience / Honorary Research Associate, British Geological Survey
What are stakeholders saying about the competences needed in the energy transition?
Lucia Levato - LUSVAL