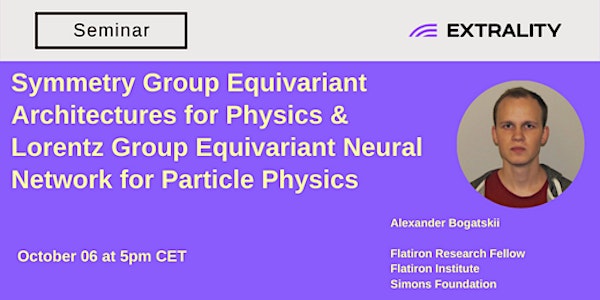 Symmetry Group Equivariant Architectures for Physics
Symmetry Group Equivariant Architectures for Physics & Lorentz Group Equivariant Neural Network for Particle Physics
About this event
Speaker: Alexander Bogatskii, Flatiron Research Fellow, Flatiron Institute, Simons Foundation
Title: Symmetry Group Equivariant Architectures for Physics & Lorentz Group Equivariant Neural Network for Particle Physics
Papers to be discussed:
Upcoming paper on permutation- and Lorentz-equivariant networks for particle physics, 2022
Abstract :
Many current approaches to machine learning in particle physics use generic architectures that require large numbers of parameters and disregard underlying physics principles, limiting their applicability as scientific modeling tools. Therefore over the last few years there has been growing interest in physics-informed, and in particular symmetry-constrained architectures. I will review several common approaches, including a Clebsch-Gordan-based approach ("Lorentz Group Network") and a newer permutation-equivariant approach. The reduction of the fundamental Lorentz symmetry lets us achieve state-of-the art predictions at much lower model complexity and higher sample efficiency. We study the application of our architectures to the standard task of top quark tagging, and in addition, we present a Lorentz-covariant variant of the same network applied to a more complex 4-momentum regression task.