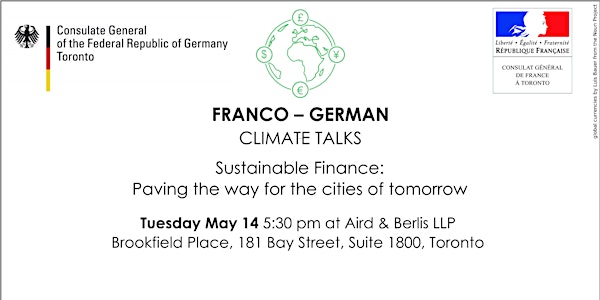 Sustainable Finance : Paving the Way for the Cities of Tomorrow
How can we finance green infrastructures for the cities of tomorrow ? Join us next May 14th for a panel discussion surrounding the topic.
When and where
Location
Place Brookfield 181 Bay Street Toronto, ON M5J 2T3 Canada
About this event
The panel will be moderated by Ms. Céline Bak, Founder & President of Analytica Advisors. Ms. Bak is a distinguished expert on the business impacts of climate change. Céline Bak is the Founder and President of Analytica Advisors, a consulting firm engaged in building global capital markets for sustainability leaders among both long-term investors and companies. She is a senior associate at the International Institute for Sustainable Development (IISD) where she leads research on sustainable finance. She has conducted research on innovation, infrastructure and served as co-chair of the Think Tank 20 (T20) Climate Policy and Finance Task Force. She is frequently called upon by major media companies, to comment on climate finance related issues.
Representatives from the public and private sectors from Canada, France and Germany will discuss how to finance green infrastructures for the cities of tomorrow that are climate-resilient, energy-efficient, and that produce low GHG emissions :
Xavier Bonnet, Head of the Economic Services in Canada (DGTresor, Ministry of Economy and Finance), Embassy of France.
In his previous position, Xavier Bonnet was for six years head of the economic department of the Ministry of Ecological Transition. In this capacity, he was particularly involved in the advice and economic evaluation of various environmental measures. With his teams, he strongly contributed to the structuring of green finance in the Paris market. In particular, he participated in the development of the first issuance of the green OAT (French sovereign bond) with his colleagues of the French agency in charge of debt management (Agence France Trésor - DGTresor), as well as the establishment of the regulatory framework for extrafinancial reporting of institutional investors (energy and environmental transition law of 2015). He also coordinated the establishment of new labels for green financial investments (TEEC) and for green crowdfunding platforms. These topics have prefigured international (TCFD) and European (HLEG) reflections on reporting and taxonomy. Xavier Bonnet is an engineer-statistician-economist by training, graduated from Ecole Polytechnique in 1992 and from the National School of Statistics and Economic Administration in 1994.
Andreas Kraemer, Founder & Director Emeritus of Ecologic Institute in Berlin, Germany, Chairman (pro bono) of Ecologic Institute US in Washington DC, Senior Fellow of the Centre for International Governance Innovation (CIGI) in Waterloo (Ontario), non-executive Director of the Fundação Oceano Azul in Lisboa (Portugal), and Visiting Assistant Professor of Political Science and Adjunct Professor of German Studies at Duke University.
Julia Langer, Chief Executive Office of the Toronto Atmospheric Fund (TAF), a regional climate agency that invests in in low-carbon solutions in the Greater Toronto and Hamilton Area and helps scale them up . Ms. Langer has held senior leadership positions in the environmental sector for three decades,, managing campaigns and organizations, defining strategy and policy, and inspiring public and private action to address air pollution and climate change. She leads TAF's staff in advancing the organization's solutions to climate and air pollution, and with support from TAF's Investment Committee, oversees the fiscal integrity of TAF's endowment. She is a recipient of the 2016 Minister's Award for Environmental Excellence for her environment and climate work and a member of the federal government's Generation Energy Council.
Nicole Vadori, Associate Vice President and Head of Environment at TD Bank. A graduate in Chemical Engineering from the University of Toronto (1997-2001), she worked from 2001 to 2011 as project manager / senior engineer for RWDI, an environmental engineering consulting firm. She holds a Master of Business Administration (Wilfrid Laurier University, Waterloo – 2011-2012). She started with TD Bank in september 2012, successively as management associate in charge of Sustainability Strategy, business improvement manager for Energy and Sustainability, senior manager for Corporate Environmental Affairs and Associate Vice President and Head of Environment.
Betsy Yeung, Senior Investment Advisor in the Corporate Finance Division at the City of Toronto. Her roles include issuing public debt for the City as well as manages City's investment and debt portfolios. Ms. Yeung has about 20 years of experience in investment management and risk consulting in the public and private sectors. Her career began at joining the investment management team at Canada Life, then CIBC, Deloitte Consulting, Manulife and City of Toronto. Ms. Yeung currently serves as a member of the investment committee for the York University Pension Fund. She was also a member of the investment committee for the Green Municipal Fund (Federation of Canadian Municipalities) for 10 years, a fund that is dedicated to finance capital projects that reduce greenhouse gas emissions. Ms. Yeung received her Bachelor of Mathematics from the University of Waterloo and MBA from McMaster University. She is also a Chartered Financial Analyst (CFA) and a Certified Financial Risk Manager (FRM). The panel discussion will be followed by a reception. The discussion will touch upon green bonds & green funds at the local level as well as other innovative green financial instruments. Please register online through this Eventbrite link.
For more information on this event, please feel free to contact the Consulate General of Germany and the Consulate General of France :
Tanja Matuszis
Press & Cultural Affairs Officer
Consulate General of Germany to Toronto
+1 (416 ) 642 2931
tanja.matuszis@auswaertiges-amt.de
Guillaume Dumas
Press & Public Affairs Officer
Consulate General of France to Toronto
+1 (416) 847-1896
guillaume.dumas@diplomatie.gouv.fr