Description
XR and spatial computing haven't met their public yet in Switzerland. Decision-makers are not informed about the power of these technologies.
The SSVAR (https://ssvar.ch) is an independent Swiss association dedicated to promoting VR/AR/MR and Spatial Computing across the country. It is managed by a team of pros in VR, AR, MR, creative and technology business incubation, computer vision and artificial intelligence. 2019 will be the third year of the association. We have 215 members registered and a large online community.
We're launching the ICAV (Innovation Center of Advanced Virtuality) :
A shared workspace to research and develop Virtual, Augmented and Mixed Reality technology, applications and projects

.

Renting of high end equipment, to help them develop their projects with a small budget.

Vertical

thematic workshops (by sector of activity) for professionals, technical meetings and public events

.

AR

/VR/MR & Spatial computing technologies training

center for pros.

Schools

children initiation to XR

.

Mentor

business

creators

Location-based

XR (Gaming/GYM/CINEMA

)
Opening in January 2019 in Satigny (near the CERN, Geneva) with our partner SpookLight Studio.
This event is the first of its kind: the very first of a roadshow. Expected attendees should be the CEOs, CIOs, Heads of innovation, Statemen…
We're going to :
Talk

about the concept of ICAV by showing the kind of

technologies

we're promoting

.

We

believe that spatial computing and mixed reality are the

next computer platform.

Magic

Leap

, a leader in this field, will show us what they've been up to with their new device, the Magic Leap One

We'll present also Microsoft Hololens, and some virtual reality applications with Oculus Rift and Samsung Gear.
Come and join us for this very special event to discover and learn more on this new technology!
---------------------------------------------------------------------
FREE PASS FOR ANY SSVAR PAID MEMBER!
https://ssvar.ch/membership-fees-2/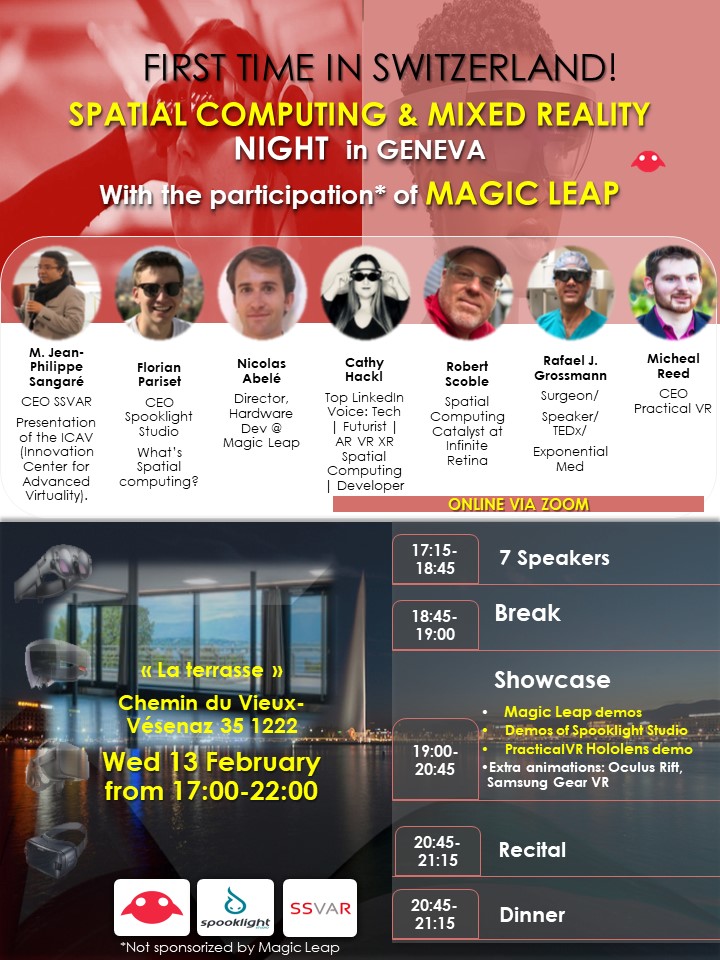 Organizer of SPATIAL COMPUTING & MIXED REALITY

Connecting Switzerland's VR/AR/MR/XR community!

Based in Switzerland, our organization is dedicated to fill the gap between the masses and professionals in the fields of : VIRTUAL, AUGMENTED and MIXED REALITY industries. We promote and bring these technologies into the mainstream, by creating dedicated business events.

 
Realization of VR, AR, MR projects / Market trends

We help to realize VR, AR, MR projects through networking.
We are a think tank in the industry which publish trends of the Swiss VR, AR and MR market
A VR/AR/MR Incubator

Have a project in VR/AR/MR? Contact us: we'll help you.

Consulting Services

We offer consulting services, through our network and members. Looking for a seasoned specialist in VR?AR?MR? or more general in IT? Let's connect! We can develop your idea, create your application and promote it.