Smarter Cities Learning Expedition in Tel Aviv, during DLD Tel Aviv 2018
Description


Join us on September 3-7, 2018 at our "Smarter Cities Learning Expedition in Tel Aviv" (17th trip)
3+ full days to explore the Israeli Innovation & Smart Cities Ecosystem
Branded as the "Startup Nation",
Israel has managed to develop in just a few years a fantastic innovation ecosystem.
This trip will allow you to discover, share and learn about how they address core needs
with technology and especially with the Smart City perspective.
No doubt that today in Israel, innovation is the #1 economy booster, and you can learn from it.
Meet in 1-trip the WW Urban Innovation players:
Joining thousands of WW participants, the global events will give you a great picture of what's in and what's out
and our dedicated workshops & events will pick the ones who count, featuring startups, institutions,
policy makers, investors, incubators, universities and networks!
Preliminary Program:
"DLD Tel Aviv Conference", of course...
"Tel Aviv Cities Summit", obviously...
But also a bunch of customized workshops and events to make it a great Learning Expedition!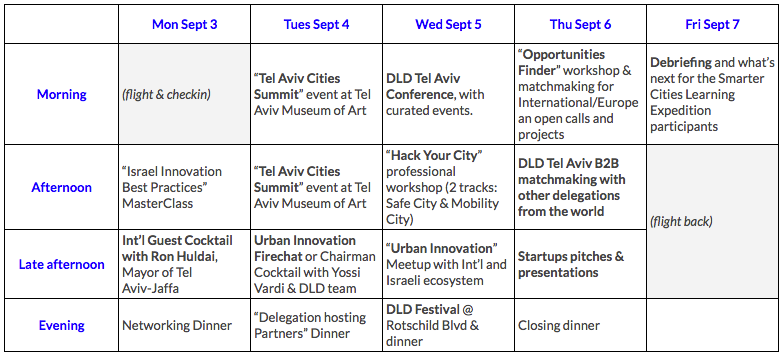 Prices & Conditions:
(includes conferences/events passes, workshops and presentations,
lunches and dinners, transport in Tel Aviv
– does not include the flight, airport transfert, hotel/breakfast and insurance)
Startup founder: 800 € + VAT
Ciry stakeholders (or region / country): 1,000 € + VAT
Enterprise, business services and investors: 1,500 € + VAT
Ask us for group prices and using your training budget.
Contacts:
André
(France, Europe & IE-Club): andre.dan@challengy.com, +33-680385710 or Skype: andredan
Yossi
(North America, Africa, Asia, ROW): yossi@challengy.com, +972-54-7386888 or Skype: yossidan