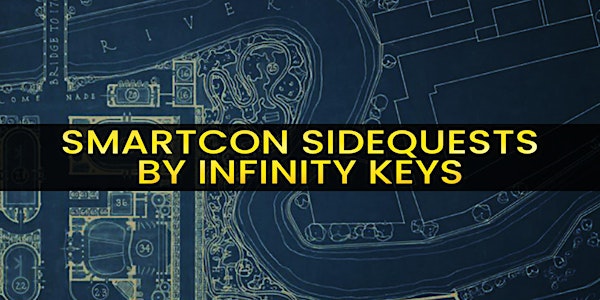 SmartCon SideQuests by Infinity Keys
Find and solve unofficial community puzzles, riddles, and treasure hunts for the upcoming Chainlink SmartCon 2022 oklg
About this event
During Chainlink's SmartCon 2022, you'll hear from experts, builders, Sergey, and more. This excites me.
But what else will you be doing anon?
You'll be collecting clues, looking for easter eggs, and drawing upon the wealth of historical Chainlink memery to find and solve a series of Infinity Keys hunts.
What's Infinity Keys? A platform for anyone to create treasure-hunt style puzzles and give communities ways to explore metaverses, lore, stories, documentation, whatever, anything, and, everything, is, up, for, grabs. Build the hunts, share with your frens, let them find your treasures and explore your passion along the way.
For SmartCon SideQuests, we've built a few hunts for the Chainlink faithful: marines, frogs, linkies, and the newfound explorers learning about Chainlink technology, the ecosystem, and resplendent community (resplendent is a good word, try using later today in conversation or on Twitter).
During SmartCon you will find clues across social media to point you to the hunt, coordinate with in-person friends to gather on-the-ground SmartCon intel, solve the puzzles using your knowledge of Chainlink memes and messaging, and claim your Infinity Keys achievement NFTs to prove your OG status.
Want to explore Infinity Keys puzzles to get an idea of what might be in store? oklg, tonight @ https://infinitykeys.io
Then watch the Infinity Keys socials and channels across the Chainlink community for hints as we get closer to SmartCon and the less-celebrated but equally important, SmartCon Eve.
SHARE THIS FUN STUFF!
-----
Update - We have prizes. There will be a series of challenges. You will need to work together as a community to complete the challenges. There are virtual and in-person challenges. Claim the free NFT achievement for each challenge to be eligible for an overarching Pack Trophy. We will randomly select winners from NFT addresses that hold the Pack Trophy for SmartCon 2022.
Prizes include:
* One actual LINK token
* One actual steak
* Other fun stuff
I challenge you to have fun.