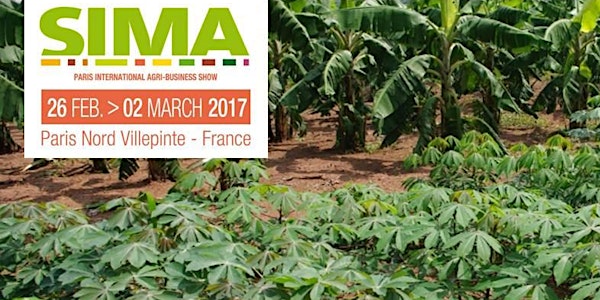 SIMA AFRICAN SUMMIT
When and where
Location
Parc des expositions Paris Nord Villepinte 93420 Villepinte France
Description
Mechanisation is today considered key to development in Africa, as is stated by the agreement entered into between the European Agricultural Machinery Committee (CEMA) and the United Nations Food and Agriculture Organisation (FAO) in 2015, to promote wider usage of sustainable agricultural mechanisation in developing countries.
With visitors from 37 African countries in 2015, SIMA, the reference exhibition for African institutions and private operators, is organizing a SIMA African Summit in 2017.
On Tuesday 28 February 2017, a conference will be held entitled "Agricultural mechanisation in Africa: what strategy for progress?" Organized by AXEMA and SIMA, with the participation of the United Nations Food and Agriculture Organisation (FAO), the European Agricultural Machinery Committee (CEMA), Bpifrance Export, FNCUMA, and the Pan African Farmers Organizations (PAFO). Feedback from entities operating in Africa will also contribute to this event.
The conference will be located in the Hall 5A Mezzanine and will be followed by a cocktail reception.
Registration is free, book early (places are limited).
-----
La mécanisation est aujourd'hui considérée comme une clé du développement en Afrique, comme le précise l'accord signé entre le Comité européen du machinisme agricole (CEMA) et la FAO en 2015 pour promouvoir une utilisation plus large de la mécanisation agricole durable dans les pays en développement.
Fort de ses visiteurs de 37 pays d'Afrique en 2015, le SIMA, salon de référence pour les institutionnels et opérateurs privés africains, organise en 2017 un SIMA African Summit.
Le mardi 28 février 2017, il accueillera une conférence sur le thème « Mécanisation agricole en Afrique : quelle stratégie pour avancer ? » organisée par AXEMA et le SIMA avec la participation de la FAO, du CEMA, de Bpifrance Export, de la FNCUMA, du PAFO (Pan African Farmers Organization). Des retours d'expérience d'entreprises implantées sur le continent africain viendront également enrichir cet évènement.
La conférence se déroulera en mezzanine du Hall 5A et se terminera par un cocktail déjeunatoire.
L'inscription est gratuite, réservez vite (places limitées)