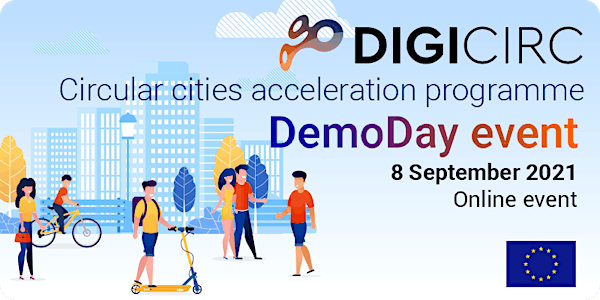 Showcase - DigiCirc Circular Cities innovations
The DigiCirc Demoday, final event of the Circular Cities acceleration programme, will be held on Wednesday 8th September.
About this event
During one day, 16 consortia of SMEs from accross Europe will pitch their innovative solutions for sustainable cities in front of a jury of experts. The competition will reward 5 of them for receiving €100.000 to develop further their solutions.
Join the DigiCirc Demoday
Everyone who would like to get inspired and in touch with compelling European innovators who are tackling one the European major challenge: the cities' transition to a circular economy.
Meet the Innovators
A networking session will be organized after the demo showcase to get connected with game-changers in cities transition.
Agenda
Welcome, agenda, project & Jury presentation (10:00am – 10:20 am CET) | Hosted by Abdul Otman, Remote Ready & Mélanie Pellen, DigiCirc Project Leader, Cap Digital
Pitch Session #1 (10:20am – 12:40 am CET) w/ EOS-TURBOWIND, myWater, Cinergy, MUV, SWAM, Byewaste, AEM, CircEco
Lunch Break (12:40pm – 2:00pm CET)
Pitch Session #2 (2:00pm - 4:15pm CET) w/ iReCirc, CIRCUMAX, PVAccelerator, DTCC, MarcLocFoo, CircUNET, GreenThermoWall, REPLA
Networking session (4:15pm – 6:15pm CET)
Announce of the results & closing ceremony (6:15pm – 7:00pm CET)
Get in touch with the DigiCirc Ecosystem! Subscribe