Welcome to the first edition of SHENZHEN FUTIAN FASHION INVESTMENT 2021 PARIS FORUM - Discover the Opportunities in a Transformed Economy.
About this event
Shenzhen, is China's Silicon Valley. Today Shenzhen is China's fastest-growing city with population of 12 millions, ranking China third GDP at ¥2,770 billion (US$328 billion) in 2020, with GDP exceeded ¥480 Billions.
Shenzhen is also the fashion headquarter center for women's wear, 90 fashion enterprises in which 3 are listed with revenue of ¥30 Billions.
Shenzhen Futian puts measures in place to transform itself into a world-class financial and commercial center, there are opportunities for the private sector to grab a slice of the action. With this in mind, the International Fashion Strategic Committee (IFSC) is delighted to present the Shenzhen Futian Fashion Investment 2021 Paris Forum.
SHENZHEN FUTIAN FASHION INVESTMENT 2021 PARIS FORUM
Date: September 30, 2021
Time: 14:00-17:15
Venue: Palais de la Culture Puteaux
Organised by: International Fashion Strategy Committee of Shenzhen Municipal Futian District People's Government 

Supported by: Shenzhen Municipal Futian District People's Government 

Co-organized by: Shenzhen Koradior Fashion Limited 

Co-supported by:
Paris La Défense
GBD Innovation Club
Comité de Développement et de Promotion de l'Habillement
Federation de la Haute Couture de la Mode
EEKA Fashion Group
Institut Français de la Mode
EnaMoMa by PSL
Comité Professionnel de Développement de l'Horlogerie, de la Bijouterie, de la Joaillerie, de l'Orfèvrerie et des Arts de la Table
L'Officiel Ukraine
Le Chinese Business Club
Who's Next (WSN)
//// PROGRAM ////
14:00 Registration 

14:30 Opening Speech
Ms. Maria Mokhova, Senior Fashion Editor, L'Officiel Ukraine
14:35 Special Speech
Mr. Zhou Jiangtao, Acting Mayor, Shenzhen Municipal Futian District People's Government President, IFSC
14:40 Special Speech 
Mr. Pierre-Yves Guice, CEO, Paris La Défense; President, GBD Innovation Club
14:45 Futian China – International Fashion New Force
Ms Meng Man, Deputy Mayor, Shenzhen Municipal Futian District People's Government, Vice President of IFSC
14:50 Special Speech
Mr. Sébastien Vicente, Head of Global Fashion and Design Department, Headquarter of Business France
15:00-15:50 Forum 1
Innovation and Development of Global Business
- Unlock post-pandemic fashion retail opportunity
- Tackle the next-gen customers through new technologies
Speakers:
Ms Pascaline Wilhelm, Head of development and partnerships, Université PSL / EnaMoMa by PSL
Professor (Mr.) David Herman, Creative & Editorial Director & Professor, Institut Français de la Mode
Mr.Vinh Pham, Member, IFSC
Ms. Martina Planty, Founder, Fashion Intelligence
Moderator:
Ms. Maria Mokhova, Senior Fashion Editor, L'Officiel Ukraine
15:25 Special Guest Speaker
Mr. Pascal Morand, Executive President, Fédération de la Haute Couture et de la Mode
15:35 Tea Break
15:55-16:50 Forum 2
Future Development of International Fashion Industry
- Invest in the future of fashion: sustainability and SDGs 2030
- Tackle the next-gen customers through new technologies
Speakers:
Ms. Sylvie POURRAT, Director of the Offer and Selection, WHO's NEXT and PREMIERE CLASSE
Ms. Colette Depeyre, Academic director of the Master in Fashion & Materials, Université Paris-Dauphine – PSL / EnaMoMa by PSL
Ms Jane Yuan, Member IFSC, Vice President, EEKA Fashion Group
Ms. Amanda Winnie Kabuiku, Founder and editor-in-chief, NAÏFS
Moderator:
Ms. Maria Mokhova, Senior Fashion Editor, L'Officiel Ukraine
17:00 Networking & End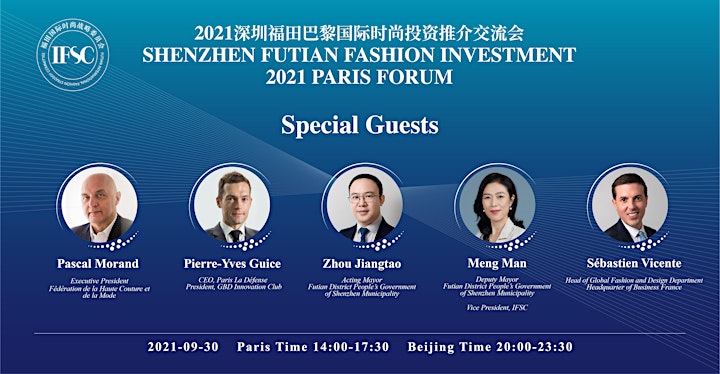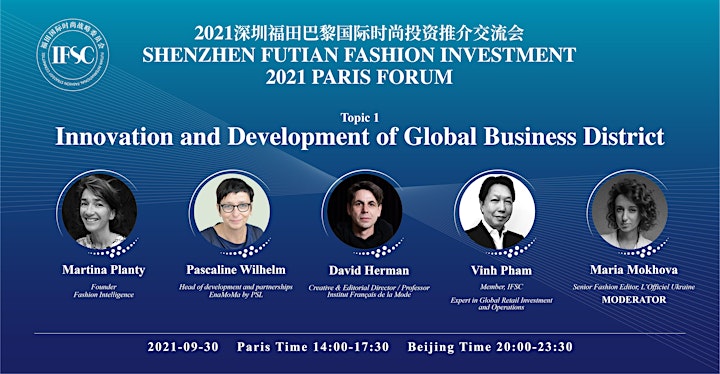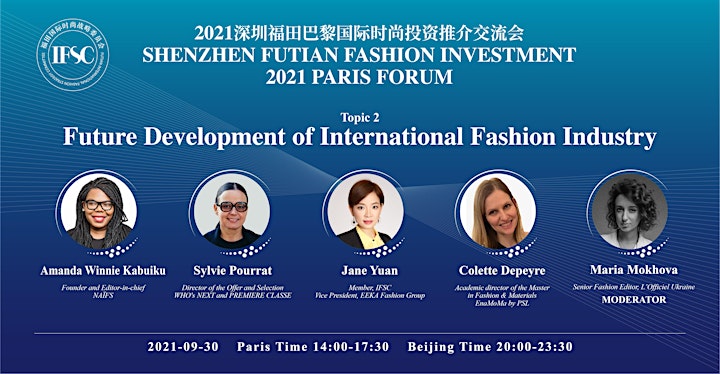 Organizer of Shenzhen Futian Fashion Investment 2021 Paris Forum