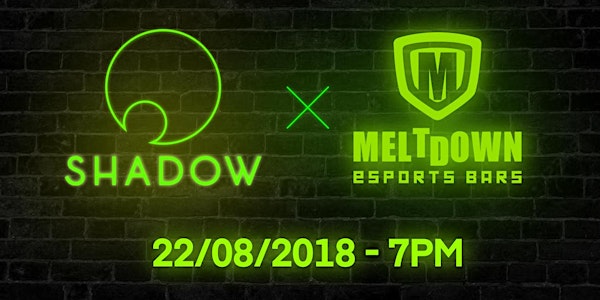 Shadow x Meltdown
When and where
Location
Meltdown Kyffhäuserstraße 39 50674 Köln Germany
Description
Shadow auf der gamescom
Die gamescom 2018 steht vor der Tür und natürlich wird auch Shadow samt Team wieder mit von der Partie sein.
Abseits von all dem Business-Treiben der Messe möchten wir diese Gelegenheit nutzen, unsere Shadow Community besser kennenzulernen und euch allen die Möglichkeit geben, uns ebenfalls besser kennen zu lernen. Das bedeutet unter anderem, dass ihr uns mit (fast) allen Fragen rund um Shadow löchern könnt. Etwas einfacher ausgedrückt, möchten wir gemeinsam mit euch einen tollen Abend verbringen.
Dafür haben wir für euch, gemeinsam mit dem Meltdown Köln, ein schönes Abendpaket voller Games, Shadow und Gemütlichkeit zusammengeschnürt. So wird es beispielsweise neben einem Spezial-Shadow-Cocktail, Spielen und guten Gesprächen, auch einen Fortnite-Wettkampf geben. Wie der genau aussieht wird an dieser Stelle noch nicht verraten. Ihr solltet in jedem Fall fleißig trainieren, denn vielleicht gibt es etwas zu gewinnen.
Wenn ihr also Lust habt euch mit uns zu treffen oder ihr schon länger nach einer Gelegenheit gesucht habt Shadow zu testen, seid ihr mehr als herzlich eingeladen. Kommt uns am besagten Termin besuchen, wir freuen uns auf jeden Einzelnen von euch. Eure Freunde und Familie sind selbstredend auch herzlich eingeladen.
Übrigens: All diejenigen, die uns am besagten Abend ihre Eventbrite Karte präsentieren, können sich über einen wunderbaren Shadow-Goodiebag freuen.
Wir sehen uns vor Ort,
im Meltdown Köln
Was ist Shadow?
Shadow ist ein leistungsstarker Windows 10 Computer in der Cloud, erreichbar von jedem Gerät mit verfügbarem Internetanschluss. Mit unserer Anwendung können Hardware-hungrige Software und Games problemlos auf unzähligen Geräten genutzt werden. Es spielt dabei überhaupt keine Rolle, ob es sich hierbei um ein MacBook Pro, ein Android Tablet oder gar einen alten Arbeits-Rechner handelt.
---


Shadow at gamescom
This year's gamescom will feature a special treat, just for you!
Since we will only be present in the B2B section of the fair this time, we, with the help of Meltdown Cologne, decided to organize a big community event.
With the rare occasion of being in Cologne, we want to use this opportunity to meet you and the existing Shadow users in Germany. At the same time we want to give you the opportunity to meet and get to know us better. This means that you can fire away all your shadow-concerning questions.
But that's of course not all. Amongst other things, there will be a special Shadow-Cocktail, minigames, food and a healthy competition in Fortnite. So you'd better straighten your training schedule and make sure to bring your a-game. In the end, there might even be a award. Who knows?
If you are interested in sharing this time with us, or you just want to use this opportunity to test out shadow on your own, you, your family and friends are more than welcome to join us. We are all looking forward to spend a great evening with you!
BTW: All attendees who present us with their Eventbrite ticket will receive a little something extra from us.
See you there!
What is Shadow?
Shadow is a powerful Windows 10 PC to play, work, browse. Do everything you love to do with a computer. But better. Thanks to the Shadow apps, any budget PC, old Mac or smartphone becomes a GTX 1080-powered Windows 10 machine. Start a game in front of the television and finish it on the go. Work with 3D rendering software on a tablet. Give the best you have to give. Anytime.'