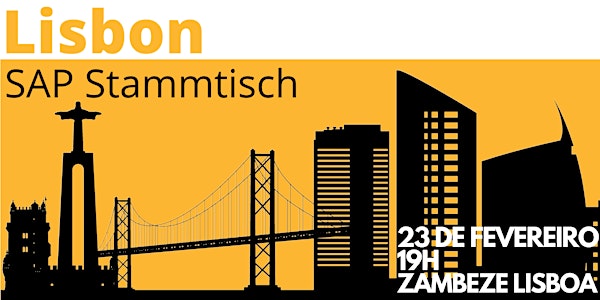 SAP Stammtisch Lisbon
Vamos reunir-nos para o 1º SAP Stammtisch de sempre em Lisboa ! Para todos os profissionais SAP
When and where
Location
Zambeze Largo Chão do Loureiro 1100-340 Lisboa Portugal
About this event
[PT - English below]
De acordo com a Wikipédia: "O Stammtisch (significa 'mesa cativa' em Alemão) é uma reunião informal que tem lugar regularmente, incluíndo também uma mesa redonda, à volta da qual o grupo se reúne. O Stammtisch não é uma reunião estruturada, mas sim um encontro amigável.
Porquê um Stammtisch de SAP em Lisboa?
As oportunidades de SAP networking, em Lisboa, são pouco comuns e limitadas a eventos formais, organizados pela SAP ou outras empresas de IT. Na Europa e alguns países fora desta, o Stammtisch de SAP é um evento informal, recorrente e muito conhecido. Sem agenda e sem PowerPoint. O importante é uma troca livre sobre problemas técnicos e funcionais, melhores práticas, conselhos, novidades sobre SAP, etc. Este evento está agora disponível com uma edição em Lisboa!
Este grupo pertence à comunidade e não a uma pessoa ou grupo de pessoas em particular. Voluntários para ajudar a organizar (Procurar novos locais, reunir tópicos para partilhar, facilitar o processo ou qualquer outro aspeto organizacional) são sempre bem-vindos :)
Quem poderá ter interesse?
Developers, funcionais, administradores de sistema, arquitetos, managers, project managers, utilizadores, de júnior a sénior. Basicamente, todos os operacionais que fazem parte do mundo SAP.
Onde irá decorrer o evento?
De acordo com o número de participantes, o local poderá ser alterado. Para esta primeira edição, em Lisboa, o evento terá lugar no ZAMBEZE Restaurante.
>>> Por favor, confirma a tua presença só se tiveres a certeza que conseguirás estar presente, para que desta forma seja possível escolher o melhor local para o nosso evento.
Será definido em conjunto durante o Stammtisch ;)
------------------------------------------------------------------------------------------------------------
[EN]
According to Wikipedia: "A Stammtisch (German for "regulars' table") is an informal group meeting held on a regular basis, and also the usually large, often round table around which the group meets. A Stammtisch is not a structured meeting, but rather a friendly get-together."
Why an SAP Stammtisch in Lisbon ?
SAP networking opportunities in Lisbon are not common and mostly limited to formal events organized by SAP or some IT companies. In Europe and other countries, the SAP Stammtisch is a well-known, recurring and informal event. No agenda, no powerpoint. It's all about free exchange: on technical/functional issues & best practices, advices, SAP news, etc. This event is now available with a Lisboan edition!
This group belongs to the community and not to any particular person or group of people. Volunteers for co-organization (Searching for new venues, collecting topics to share, facilitation or any other organizational aspect) are more than welcome :)
Developers, functionals, BC admins, architects, managers, project managers, users and from junior to senior. In short, all operational people in the SAP world.
Where will the event take place?
Depending on the number of participants, the location may vary. For this first edition, ZAMBEZE Restaurante in Lisbon will be our meeting place.
>>> Please confirm your presence only if you are sure to be able to come, this for a better organization with the place of our meeting.
To be defined together during the Stammtisch ;)
#SAPStammtisch #SAPStammtischLIS #Lisbon #SAP #S4HANA #ABAP #SAPUI5 #Fiori #Agile #CleanCode #SAPBTP #BTP #ECC #MM #SD #FICO #VINCIEnergies