This second Rural Connections webinar aims to exchange knowledge between EU projects on the Vision for the Future of Rural Areas
About this event
Rural Connections. Webinar series for knowledge exchange with EU Rural projects, is a set of three webinars involving RURITAGE and a group of European rural projects. The main objective of this series is to exchange knowledge and best practices between EU projects working on different aspects related to rural development, with the view to support RURITAGE partners in the implementation of their rural regeneration action plans.
This webinar's participants are SHERPA and RURALIZATION project's
Sustainable Hub to Engage into Rural Policies with Actors (SHERPA) is a four-year project (2019-2023) with 17 partners funded by the Horizon 2020 programme. The project aims to gather knowledge that contributes to the formulation of recommendations for future policies relevant to EU rural areas, by creating a science-society-policy interface. With this in mind the project is:
Mapping the main drivers of future trends and dynamics of EU rural areas;
Establishing Multi-Actor Platforms (MAPs) as effective and sustainable Science-Society-Policy interfaces;
Creating a shared knowledge base relevant to EU rural policy by taking stock of results of past and ongoing research projects;
Engaging in a dialogue between citizens, researchers and policy-makers across EU territories;
Formulate recommendations linked to different scenarios for the development of modern rural policies at European, national and regional levels, as well as for the future rural research agenda.
The RURALIZATION project is based around the idea that a process of 'ruralisation' can change development patterns in rural areas overcoming population and economic decline and generating new opportunities. To foster a "ruralisation" process across Europe, we need new policy-relevant knowledge, which the RURALIZATION project will generate.
Funded under the Horizon 2020 programme, RURALIZATION gathers 18 partners from 12 different countries including not only research organizations but also partners that implement innovative practices, such as members of the Access to Land network. This diversity will guarantee a wide range of perspectives and situations thus ensuring the project will formulate solutions and recommendations which respond to the diverse needs and features of rural areas in Europe.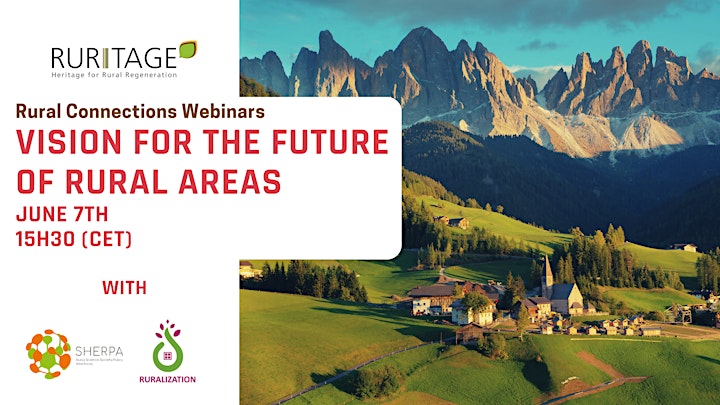 Organizer of Rural Connections Webinar #2 - Vision for the Future of Rural Areas