Event Information
Location
Agilos
Route d'Arlon 283
"Les Mimosas"
L-8011 Strassen
Luxembourg
Description
3 hours of your time to experience it yourself!
What's the purpose of this free workshop? And why Agilos?
We want to let you experience the power of self-service visualization. Agilos is Qlik's largest Elite Partner in Belgium & Luxemburg. As a leading provider of innovative BI expertise and solutions, we want to share the experience we've acquired during our various projects and share with you how easy it is to build a fully functional business discovery application.
What will you learn?
What is associative navigation
The added value of Qlik Sense compared to excel or a query tool
How to gain insight in your data with just a few clicks
How to create and adapt simple visualizations in Qlik Sense
How to easily associate multiple data sources
How to define calculations using the user-friendly expression editor
How to represent and interact with data on Bar charts, Pie charts, Line charts, Scatter plots, Tree maps, KPI gauges, Pivot tables, Geographic maps
How to extend your Qlik Sense interface with other visualization types
How to easily integrate Qlik Sense visuals in interactive stories and in external web sites
Here are some examples of visuals that you will create yourself in this workshop, without any programming: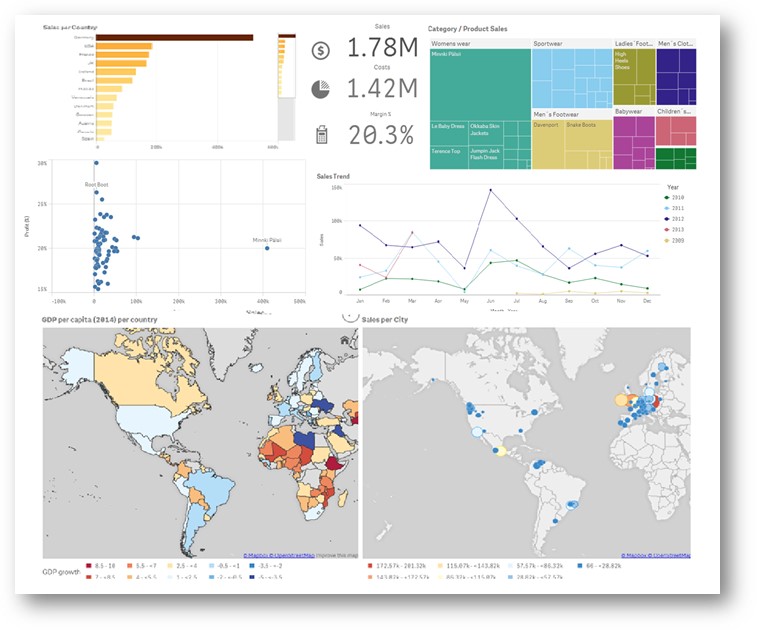 Date and Time
Location
Agilos
Route d'Arlon 283
"Les Mimosas"
L-8011 Strassen
Luxembourg