Processing Paris 2015 : Masterclass

Friday, 17 April 2015 at 09:30

-

Sunday, 19 April 2015 at 23:00 (CEST)
Event Details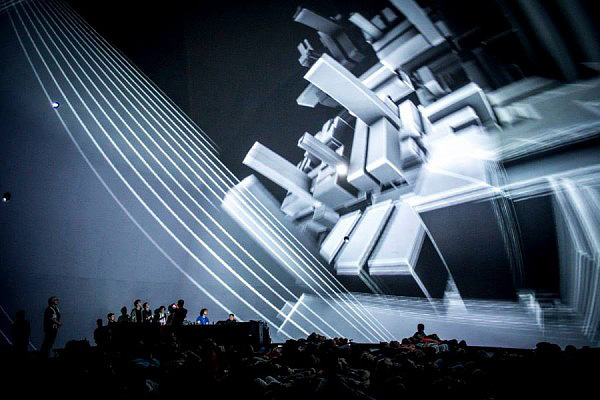 ///////////////////////////////////////////////////////////////////////// 
Présentation 
Processing Paris is a series of workshops for artists and designers who wish to learn, develop and share their creative coding skills. Organised by the Free Art Bureau in collaboration with le Campus de la Fonderie de l'Image, Processing Paris is now in it's fifth year and going strong. Each year we invite the best professionals and teachers in the field to lead our workshops, catering for beginners to the most experienced.
Workshop Masterclass 2015
Live Processing
Intervenant : Laurent Novac
The masterclass is a unique opportunity to work with Processing for live performance. Using a custom made framework specially crafted for this workshop, participants will learn about integrating their own creations in a flexible manner, tailored for multiple interactions & media for live performance !
Day 1: Masterclass
Presentations of some key concepts for live audio-visual performances. The participant will work inside a 'compact tailor made' coding framework prepared for this workshop. This framework will be presented in detail.
The purpose of this framework is to make live manipulation of the participant's creations as easy and natural as possible. Using different interfaces & protocols (OSC, MIDI, leap motion…), participants will be able to plug them into sketches in a generic way!
Participants are invited to bring along with them any device; midi controller, kinect, arduino,… they want to plug into the framework and interact / play with.
Participants will then be able to start coding inside the framework and experimenting with it.

Day 2: Experimentation Day
Participants will work on their audio-visual creations and integrate them within the framework. Participants will be able to combine different creations and even mix them with other students. A ready to map 3D physical playground structure will be available on site as a means to experiment live projection mapping and test various configurations.
Day 3: Performance Day
Final touches to the work.
Demo & performances !
Party!
Biography
Passionate about art and technology, Laurent Novac uses technology as a tool for audiovisual installations, performances or simply as a basis for creation. Member of the VJ collectives Supermafia for several years, he has participated in the creation of numerous audiovisual installations and performances. He has also been an active member of the TSKZ association for over two years now, which aims to promote collaborations between artists and scientists, by organizing various conferences and workshops teaching new technologies such as Processing. 
He uses a variety of tools such as Processing, Cinder, OpenFrameworks, for graphical and interactive programming. 
Since 2012, he has worked as a software engineer and creative developer at GarageCube and 1024 architecture, the team behind the Modul8 and Mad Mapper software.
He is also part of the team for 1024 Architecture developing installations and performances  such as the Quantum (Full Dome).
===============================
When & Where

La Fonderie de l'Image
81-83 Avenue Gallieni
93170 Bagnolet
France


Friday, 17 April 2015 at 09:30

-

Sunday, 19 April 2015 at 23:00 (CEST)
Add to my calendar
Organiser
Free Art Bureau (FAB) est une association loi 1901 dont l'action est de promouvoir, organiser, éduquer et soutenir la création et le développement des arts liés au code informatique, la programmation et aux cultures du libre. Son activité se déploie tout au long de l'année avec plusiers types d'actions.
Ateliers de création / Conférences / Meet-Ups / Research / Innovate / Create  / Educate.
Openness is our belief. Ignorance is not an option.