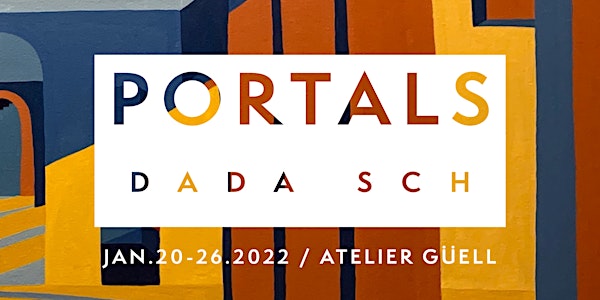 Portals - Dada Sch - Art Expo
Location
Atelier Güell
8 Carrer de les Penedides
08001 Barcelona
Spain
Dada Sch's first show « Portals » at Atelier Güell.
About this event
"Dada Sch's series unite and separate arches, stairways, portals and other structures across one or several vibrantly colored paintings... Obsessive and systematic, the artist is developing her alphabet, her encyclopedia of formats and mediums - attractive yet unfinished, like the work of Xavier Corberó." - Julia Bolliger Murari
**Thursday, January 20th - Soft opening, come by for a quiet visit and a glass of cava away from the crowd
Friday, January 21st - Vernissage / Opening night with contemporary dance performance by Zarina Rondón accompanied on the piano by Marta Mattotti.
Saturday, January 22nd - open for visits from 11h00-14h00 & 16h30-20h30
Sunday, January 23rd - #DIYfilmnight by Mercedes starting at 19h30
Tuesday, January 25th - Finissage / Closing night with live music and dance performance
Wednesday, January 26th - Private showings (contact s.daphne@gmail.com to reserve)
** Newly added events ✨
Don't forget to reserve your ticket to ensure admission & a free drink 🥂