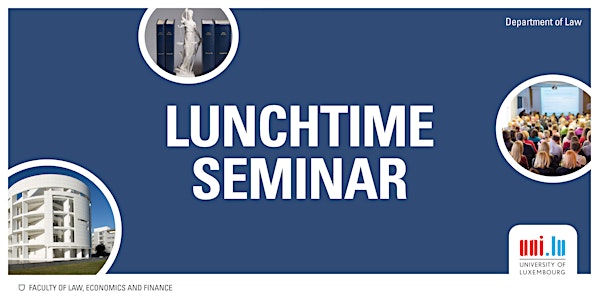 Planned obsolescence
Planned obsolescence
About this event
Speaker
Prof. Denis Philippe, Attorney at Law, Professor at the Catholic University of Louvain, Visiting professor at the University of Paris X
Anaïs Michel, PhD candidate at the KU Leuven
Abstract
Planned obsolescence is a policy of planning or designing a product with an artificially limited useful life or a purposely frail design, so that it becomes obsolete after a certain pre-determined period of time upon which it decreases its functions or suddenly ceases to function, or might be perceived as unfashionable.
This practice jeopardizes the rights of the consumer and the environment.
The remedies offered currently by the civil law are not sufficient enough to protect these rights.
France has already issued a law making of planned obsolescence a criminal offence.
The European Union has on March 30, 2022, proposed to update the EU consumer rules to empower consumers for the green transition. The updated rules will ensure that consumers can take informed and environment-friendly choices when buying their products. Consumers will have a right to know how long a product is designed to last for and how, if at all, it can be repaired.
The seminar will explain the content of these new rules and put them into perspective.
https://wwwde.uni.lu/fdef/aktuelles/planned_obsolescence
Sustainability Lunchtime Seminars: Where Environmental Law Meets Economic Law
Objective: Our sustainability lunchtime seminars will create a venue to study the interaction between EU environmental law and EU economic law. In light of the European Green Deal framework, our objective is twofold. On the one hand, we intend to analyse how economic law could evolve to better integrate environmental rules, principles, and objectives. On the other hand, we intend to examine how environmental law could better address economic-law challenges and realities. To reach sustainability and meet EU Green Deal objectives, there must be a close interaction between environmental law and economic law; for now, these two disciplines have very different scopes and functions.
Methodology: Through our selection of topics and speakers, we intend to find new channels of connection between EU environmental law and EU economic law. To do so, we will combine two approaches. Through a substantive approach we will focus on the correlation between environmental law and specific economic policies, for example, consumer law, competition law, investment law, corporate law, trade law, and finance. By means of a sectoral approach will examine specific topics that demand integration between environmental and economic law (e.g., 5G, and deforestation).
Format: Our online lunchtime seminars will be held once a month throughout 2022 from 12:30 to 13:30 (Luxembourg time) and include presentations given by young researchers, renowned professors, and expert practitioners. Our working language will be English. All interested people, both within and without academia, are encouraged to attend our online seminars.
Output: EU Law Live will publish two Weekend Editions (one in July and the other in December 2022), setting out the key ideas and main proposals arising out of our Sustainability Lunchtime Seminars.
Organisation: Alessandra Donati, Postdoctoral Researcher at the University of Luxembourg and Attorney at Law in Italy and France will organise our Sustainability Lunchtime Seminars. She can be reached at alessandra.donati@uni.lu.
In collaboration with the Belgio-Luxembourg Hub of ELI (European Law Institute) and ALDE (Association Luxembourgeoise pour le droit de l'environnement).
EU Law Live will be the media partner of the Sustainability Lunchtime Seminars.
Click here to find out more about our Sustainability Lunchtime Seminars.