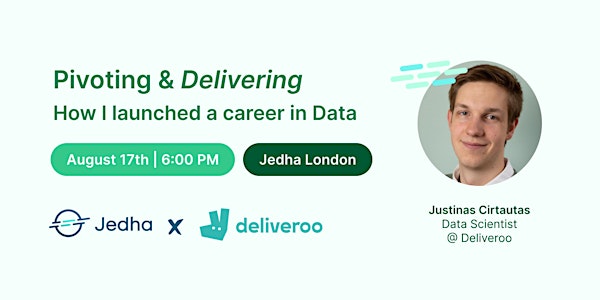 Pivoting & Delivering: Forge a career in Data with Justinas from Deliveroo
Pivoting to Data can be a challenge but with the right help it's so rewarding! Hear Justinas from Deliveroo share his story at Jedha London
When and where
Location
Labs House 15-19 Bloomsbury Way, London WC1A 2TH, United London 13220 United Kingdom
About this event
Deliveroo is a British online food delivery company that gets your favourites from local restaurants and eateries delivered right to your door, FAST. Justinas is a Data Scientist at Deliveroo but comes from a banking background.
Ever thought about a career in Data Science? Considering re-training? Want to learn more about how this amazing discipline operates in practice?
We're fascinated to get some insights about Justinas' work at Deliveroo: learning about Randomised Control Trials (A/B testing), tactics on developing technical skills for non-technical backgrounds, how to deal with imposter syndrome and differentiate yourself from the pack as well as some of the specific DS resources that helped him.
Join us in person for this FREE talk with Justinas at Jedha Bootcamp London and stick around for a drink afterwards for a great chance to talk tech with like minded people.
***
Doors at 6pm, talk starts at 6.30pm @ LABS House, Holborn
—
At Jedha, we teach adult students the skills they need to get hired in Data and Cyber Security. Our courses are intensive, bootcamp style training sessions that teach the practical skills employers demand.
We believe that tech can truly change the world and that learning how to operate and thrive in this industry allows individuals to level up and forge the future they always dreamed of.
www.jedha.co.uk