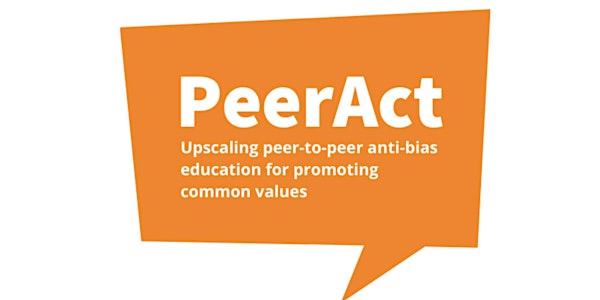 PeerAct: Tackling discrimination through peer-to-peer education!
Don't miss out! Peer Act Final Conference 10 January 2023
About this event
Working alongside youth to tackle discrimination, intolerance, and inequality
This conference will share the outcomes of the timely PeerAct project, which aims to contribute substantially to building peaceful societies and to tackle all forms of discrimination, intolerance and inequality. The project is now completed and the conference will share project results and impact, and include presentations, a panel and keynote speaker.
This innovative project has worked to enhance- amongst 1000 youngsters from 6 European countries (Belgium, North Macedonia, Portugal, Romania, Serbia, and Slovenia)- the acquisition of competences such as critical thinking, socioemotional skills, and personal agency to foster ownership of the fundamental values of non-discrimination, tolerance, solidarity, and equality.
Newly certified peer trainers have shared their intention of taking further action against discrimination, prejudice, and stereotypes in their own communities:
"I see the urgency of taking action about these issues"
"I want to unlearn (prejudices) through education"
"I want to plant the seeds for an attitude change"
"Relating training topics with real life will make it easier to interact and take action back home"
Don't miss out, register now!
Provisional Program
10:00 – 10.10 Welcome and introduction
10.10 – 10.30 Panel discussion on anti-bias education and peer learning
10.30 – 10.45 Presentation of key findings from the final evaluation report
10.45 – 11.25 Panel discussion with peer trainers
11.25 – 11.45 Group discussions
11.45 – 12.00 Comfort Break
12.00 – 12.15 Plenary discussion
12.15 – 12.30 Presentation of the "How to" Framework
12.30 – 12.45 Keynote Adress
12.45 – 13.00 Conclusions and closing of the webinar