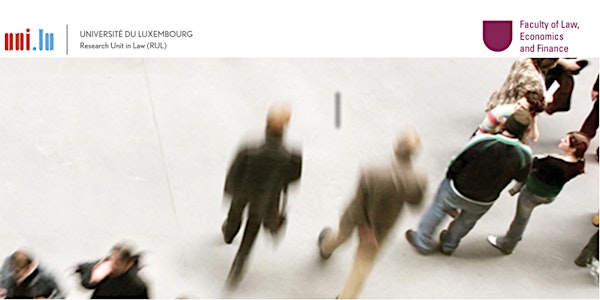 Owning Expression and Propertizing Speech - Freedom of Expression v Copyrig...
Location
University of Luxembourg
Weicker Building - conference room B 001 (ground floor)
4, rue Alphonse Weicker
L-2721 Luxembourg
Luxembourg
Description
Abstract
The right to freedom of expression is of paramount importance for a democratic society. When balanced with other fundamental rights, Article 10 of the European Convention of Human Rights affords Member States a wide margin of appreciation. This margin is traditionally exercised by the national legislatures.
With the extensive harmonization of copyright through EU law, the European legislator has increasingly been charged with the task to strike this balance; in this task, it is additionally bound by the EU Charter of Fundamental Rights. By exercising its legislative competence, the EU also regulates within the margin of discretion to strike the balance between freedom of expression, under Article 11 of the Charter, and copyright as type of intellectual property, under Article 17(2) of the Charter.

The conflict between the right to freedom of expression and copyright, as protected under the Charter, has been addressed by the Court of Justice of the EU in a number of cases on intermediary liability and enforcement, as well as in the interpretation of the parody and quotation exceptions. This conflict features prominently in three recent preliminary references made by the German Federal Supreme Court: Pelham (C-467/17), Funke Medien (C-469/17) and Spiegel Online (C-516/17). These cases have once again exposed the challenges of balancing freedom of expression against other fundamental rights in complex legal frameworks and in particular in systems of multi-level governance.

Although the cases only address the balance in relation to copyright, they will have implications for other policy fields. This conference will examine this conflict and its implications from different perspectives.
Programme
8.30
Registration
9.00
Welcome
Prof. Dr. Katalin Ligeti, Dean of the Faculty of Law, Economics and Finance
Prof. Dr. Mark Cole, University of Luxembourg
9.20
Keynote: The Constitutionalisation of Copyright in Germany and the EU
Prof. Dr. Alexander Peukert, University of Frankfurt
10.00
Panel 1: Freedom of Expression before the European Courts (Moderator: Mark D. Cole)
Neither window-dressing nor power-tools - reflections on the constitutionalisation of European Union copyright law
Professor Jonathan Griffiths (Queen Mary University, London)
The propertization of copyright under Article 17(2) CFREU: which impact on the fair balance?
Dr. Caterina Sganga (University of Pisa)
Fundamental Rights in the copyright jurisprudence of the CJEU – An empirical analysis
Dr. João Pedro Quintais (Institute for Information Law, University of Amsterdam) & Dr. Bernd Justin Jütte (University of Nottingham)
11.30
Coffee break
11:45
Panel 2: Creative Expression (Moderator: Bernd Justin Jütte)
Disentangling Quotation from Dialogue
Professor Lionel Bently (University of Cambridge)
Mixing and Mashing online - bridges and barriers to audiovisual creativity
Dr. Henrike Maier (Alexander von Humboldt Institute for Internet and Society)
Shades of parody in the light of fundamental rights
Dr. Sabine Jacques (University of East Anglia)
Spiegel Online, or why we need fair use in the EU (and how it should be designed)
Tito Rendas (Universidade Católica Portuguesa, Lisbon)
13.15
Lunch
14.45
Keynote: On the difficulties of balancing
First Advocate General Maciej Szpunar, Court of Justice of the European Union
15.30
Panel 3: Horizontal implications (Moderator: João Pedro Quintais)
The Horizontal Consequences of the CJEU's Trilogy on European Copyright Law
Dr. Péter Mezei (University of Szeged)
Balancing copyright to serve the public interest
Professor Dirk Voorhoof (Human Rights Centre, Ghent University and Legal Human Academy)
Fundamental rights safeguards and Article 17 DSM Directive
Dr. Martin Husovec (Tilburg University)
Wider implications of the CJEU case law on other fundamental rights: is the freedom of expression the only victim of Spiegel Online?
Dr. Tatiana-Eleni Synodinou (University of Cyprus)
17.00
Roundtable: Looking Back and Thinking Ahead (Moderators: Mark D. Cole & Bernd Justin Jütte)
Professor Irini Stamatoudi (University of Nicosia)
First Advocate General Maciej Szpunar (Court of Justice of the
European Union)
Prof. Dr. Alexander Peukert (University of Frankfurt)
Professor Bernt P. Hugenholtz (Institute for Information Law,
University of Amsterdam)
Dr. Cédric Manara (Head of Copyright, Google)
18.40
Closing Remarks (Bernd Justin Jütte & João Pedro Quintais)
19.00
Cocktail
https://wwwen.uni.lu/fdef/aktuelles/owning_expression_and_propertizing_speech_freedom_of_expression_v_copyright_before_the_european_courts

The University of Luxembourg (hereafter "Uni.lu") collects and processes your personal data in the framework of your registration and your participation in this event and the communication of its future activities. Uni.lu processes and keeps your personal information only to the extent necessary to fulfill the purpose stated.
During the registration process your personal data is being collected and processed on the Eventbrite website by Eventbrite Inc. located in the United States. This will involve the transfer of personal data to countries that do not offer the same level of protection as the European Union regarding data protection rules. Eventbrite Inc. participates in and complies with the EU-U.S. Privacy Shield framework as set forth by the US Department of Commerce regarding the collection, use and retention of personal data. Eventbrite may process your personal data as a controller for different purposes than the purposes of the University of Luxembourg. More information is provided on Eventbrite Inc.'s website in their EU-US Privacy Shield Notice, Privacy Notice and Terms of Services.
You can deregister from the event directly on the Eventbrite website and withdraw your consent for the processing of personal data by Uni.lu for the purpose stated above. You have the right to access, rectify, and erase your personal data as well as further rights described on the Uni.lu website. You can exercise your rights by following the procedure described on the website.