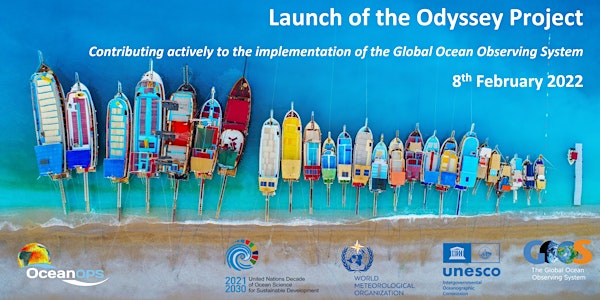 Odyssey Project launching - hybrid event
Launching of the Odyssey Project endorsed by the UN Ocean Decade in support of the Global Ocean Observing System (GOOS).
Date and time
Tuesday, February 8, 2022 · 12 - 3pm CET
About this event
During the last 10 years, OceanOPS has developed innovative partnerships with civil society, particularly with NGOs and racing yachts to deploy observing instruments in hard-to-reach locations, contributing to the real-time observation and stewardship of the ocean with low carbon footprints. These partnerships and activities were even more strengthened during the pandemic, when deployment of oceanographic instruments by research vessels was deeply impacted by Covid-19 restrictions.
"Other partnerships or initiatives are being developed to generalize met-ocean observations from merchant ships, fishing fleets, and other marine operators or ship users from the coast to the open ocean, but they have not yet unleashed their full potential" explains Mathieu Belbéoch, OceanOPS manager. "The Odyssey project will provide the framework for the co-development of an operational contribution of civil society to the GOOS infrastructure" adds Belbéoch.
The Odyssey project embodies the level of response we need to face climate issues and will help strengthen international collaborations within and outside the ocean observing community. These collaborations, based on the observations' collection, data sharing and analyses, scientific and technological developments, will be essential to develop such a project.
Objectives
Conscious of the importance of civil society engagement to support ocean observations and that the development and sustainability of the GOOS urgently need targeted increases in observations, OceanOPS will coordinate the Odyssey Project.
The Project aims to:
Enhance the GOOS, in all its components, by cooperating with new ocean-going vessel types from ocean races, NGOs, citizens, and private sectors
Coordinate and structure all diverse and fragmented ocean observing contributions for better efficiency and visibility of all initiatives
Provide tangible and operational support to the GOOS and all networks, including new emerging networks
Promote and reward existing contributions
Make links between different communities contributing to the GOOS
Develop and reinforce data distribution nodes based on existing structures
Build a pool of met-ocean instruments handled by the UN
Engage civil society in the UN Ocean Decade
Participate in Ocean Literacy, educational and outreach activities around ocean observations
Audience
The Project is addressed to an international audience including scientists, civil society, private sphere, shipping industry, sailing communities, fishing, and all people who are interested in contributing to marine observations .
Chairs: Mathieu Belbéoch (Manager, OceanOPS) & Toste Tanhua (GOOS Steering Committee, Co-Chair)
Opening:
Peter Thomson (UNSG's Special Envoy for the Ocean)
WMO, IOC/UNESCO Representatives
Institutional Partners (Ifremer, NOAA, AWI)
Context & Objectives of the Odyssey Project
Toste Tanhua (GOOS)
Sabrina Speich (Co-Chair Ocean Observing Co-Design)
Mathieu Belbéoch (OceanOPS)
Overview on history with voluntary observing ships
Martin Kramp (OceanOPS)
Catherine Chabaud (Member of the European Parliament)
Highlights on some new and historical partnerships: (speakers in the detailed agenda)
Coastal observations
Sailing community
Shipping industry
Fishing vessels contribution
Instrumentation
Roundtable discussion:
Challenges identified
2030 Odyssey vision
Odyssey Project structuration (observing components, implementation, instrumentation, data flow, communication)
Next steps
Conclusions & perspectives
Mathieu Belbéoch & Toste Tanhua
Signature of the Brest declaration for ocean observations
(With the Brest declaration, civil society will engage, within the Odyssey Project, to provide sustained support for ocean observations contributing to the Global Ocean Observing System. Please, review the declaration before the event and let us know if you want to make changes to the letter. The declaration will be available for signature at the end of the event and after it for all people who were not able to attend or need more time to sign up)
Practical Information
This is a hybrid event, you can either attend in-person or join the meeting virtually. Registration is necessary to attend the event (in-person or virtually) and to obtain the meeting link connection information.
The in-person meeting will be held in Brest, Brittany, France. The location will be communicated to all registered attendees closer to the event.
The official language of the meeting is English.
Should you have any questions, do not hesitate to contact us: Emanuela Rusciano erusciano@ocean-ops.org