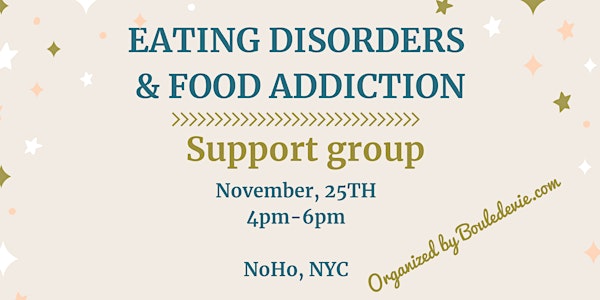 NYC Eating disorders & food addiction support group
Group dedidacted to people suffering from eating disorders. Join a community of people who share your concerns and goals.
When and where
Location
18 Bleecker St 18 Bleecker Street New York, NY 10012
About this event
Hi, I am Masha, a former food addict, founder of BouledeVie.com, a French and English blog dedicated to eating disorders recovery.
As helpful as getting information on eating disorders might be, it isn't as helpful as finding oneself among other people sharing the same trouble.
This support group, hosted in NoHo on November, 25th, from 4pm, is an optimistic and practical place where each participants will get real tools to feel better in their everyday life.
It will as well allow you to connect and stay in touch with a community of people who understand you and share your concerns. Eating disorders become less scary when you realize you are not the only one to experience them.
For more information on the event or on eating disorders in general, feel free to send me an email at masha@bouledevie.com
Looking forward to seeing you next Sunday!
Cheers
Masha