Description
le festival
Nollywood Week est le seul et unique festival de cinema dédié à l'industrie de Nollywood en France. Cet événement annuel permet au public parisien de découvrir tous meilleurs films de la production Nollywoodienne. La prochaine édition a lieu du jeudi 3 mai au dimanche 6 mai au cinéma l'Arlequin au 76 rue de rennes dans le 6eme arrondissement de Paris.
Les Pass: 49 euros (vous pouvez acheter en-haut)
Le ticket individuel: 9 euros (achetez votre ticket individuel ici)
La Programmation 2018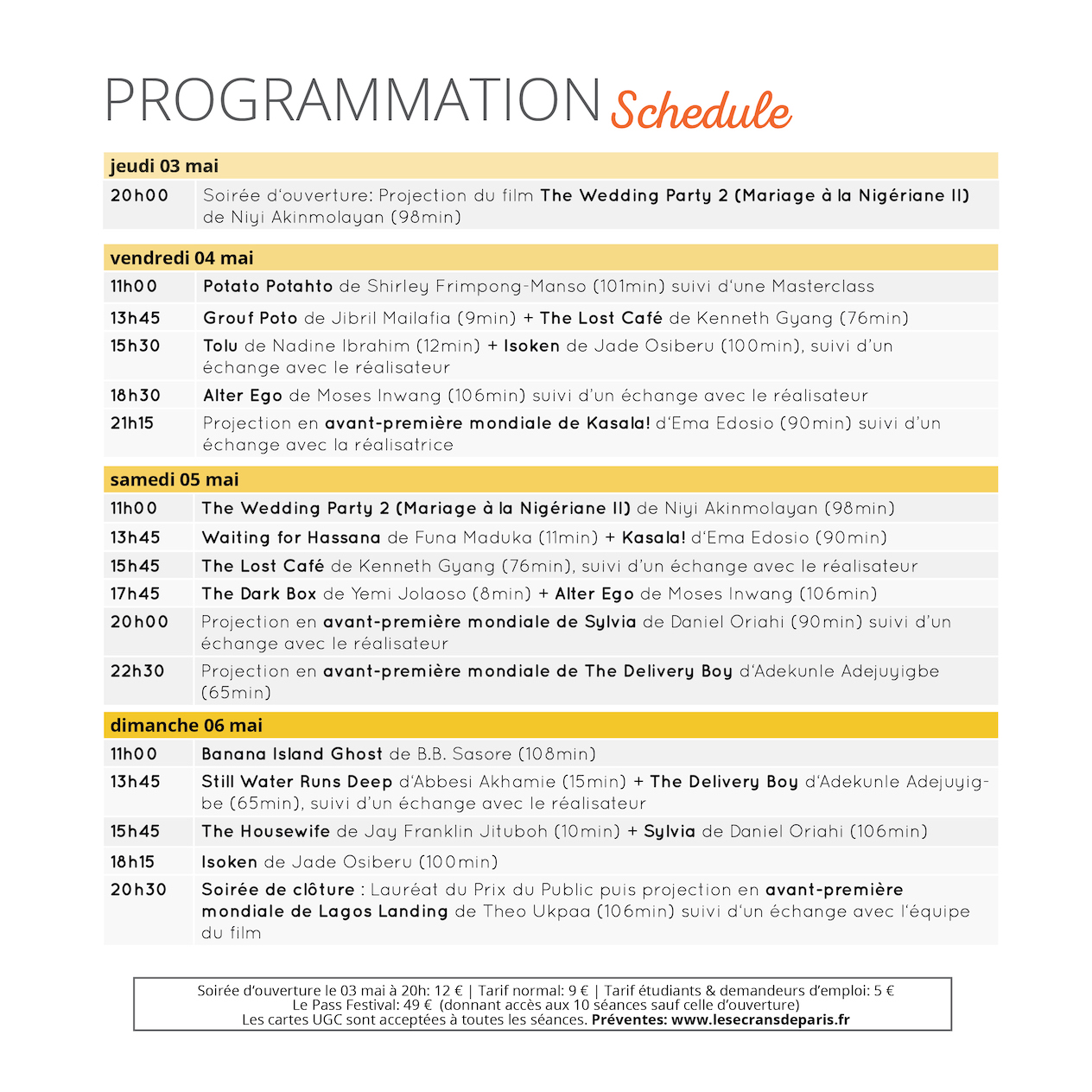 1. Les Pass sont valable pour une personne uniquement. Pour profiter du festival à deux, optez pour un Pass Duo.
2. Les Pass vous permettent de voir tous les films programmés (10 séances).
3. Les Pass sont non-remboursables
4. Pour récupérer votre Pass physique, venez avec la confirmation d'Eventbrite au Cinéma l'Arlequin à partir du jeudi 3 mai à 19h.
5. Les Pass doivent être échangé au guichet contre un ticket individuel
6. Si vous n'avez pas un Pass, les tickets individuels sont vendus à 9 euros (12 euros pour la soirée d'ouverture)
7. Pour toute autre question, envoyez un email à info@nollywoodweek (point) com
---
NollywoodWeek Paris is back for it's sixth edition showcasing the best of Nollywood in France from Thursday May 3rd to Sunday May 6th 2018 at l'Arlequin Movie Theatre (76 rue de Rennes, 75006, Paris).
Purchase a pass for 49 euros above
Buy individual tickets per film for 9 euros here.
FAQ
1. The Pass is valid for only one person. Duo Pass gives you two passes for two individuals.
2. With the Pass, you can purchase your tickets at once to avoid sold out screenings.
3. Passes give access to all showings (10 films) including Closing Night. (Note that the pass does not give you access to Opening Night- you must purchase a seperate ticket)
4. Passes are non-refundable.
5. To redeem your physical pass, bring the paper pass you receive from EventBrite to Cinema l'Arlequin starting from 7pm May 3rd.
6. If
no pass is purchased, each individual ticket cost 9 euros and 12 euros for the Opening Night.
8. Any questions can be sent to info [at] nollywoodweek [dot] com