Event Information
Location
Ministry of the Economy
139 Rue de Bercy
75012 Paris
France
Description

Version française
08.30
Registration & Continental breakfast
---
08.45
Introductory remarks

Nathalie Homobono | Director general, Directorate-General for competition policy, consumer affairs and fraud control (DGCCRF), Paris
Frédéric Jenny | Chairman, OECD Competition Committee, Paris | President, International Committee Concurrences Review | Professor, Director of International Relations at ESSEC, Co-Director of the European Center for Law and Economics
---
09:00
Opening Keynote Speech
Emmanuel Macron | Minister of the Economy, Industry and the Digital Sector, Paris
---
09.45
Competition and trade policies: Is there a way forward?
Johannes Laitenberger | Director General, DG COMP, Brussels
Ignacio Garcia Bercero | Director, DG Trade, Brussels
Simon J. Evenett | Professor, Saint Gallen University
François-Charles Laprévote | Partner, Cleary Gottlieb Steen & Hamilton, Brussels
Chairperson: Frédéric Jenny | Chairman, OECD Competition Committee, Paris
---
Coffee-Break
---
11.30
"Free" goods and services: Is there such a thing as a free lunch?
Jacques Crémer | Professor, Toulouse School of Economics, Toulouse
Alvaro Ramos | Head Global Antitrust, Qualcomm, San Diego
Laurent Flochel | Vice President, Charles River Associates, Paris
Olivier Fréget | Partner, Fréget-Tasso de Panafieu, Paris
Chairperson: Bruno Lasserre | Chairman, Autorité de la concurrence, Paris
---
13.00
Lunch
---
14.45
Is territoriality still meaningful?
Douglas Ginsburg | Judge, US Court of Appeals for the District of Columbia, Washington D.C.
Melchior Wathelet | Advocate General, Court of Justice of the European Union, Luxembourg
Jorge Padilla | Senior Managing Director & Head, Compass Lexecon Europe, Brussels/Barcelona
Jacques Buhart | Partner, McDermott Will & Emery, Paris/Brussels
Chairperson: Laurence Idot | Professor, University Paris II Panthéon-Assas | Member, Autorité de la concurrence, Paris | President, Scientific Committee Concurrences Review
---
Coffee-Break
---
16.30
Rebates: To hell with consumers!
Andreas Mundt | President, Bundeskartellamt, Bonn
Trevor Soames | Partner, Shearman & Sterling, Brussels
Hans W. Friederiszick | Managing Director, E.CA Economics, Berlin
Chairperson: Nicolas Petit | Professor, Law School of the University of Liege
---
18.00
Closing Keynote Speech
Ian Forrester | Judge, General Court of the European Union, Luxembourg
---
18.30
Concurrences PhD Awards 2016
---
18.45
Reception
---
Conference materials
Interview with Johannes Laitenberger, by François-Charles Laprévote, click here
Interview with Douglas Ginsburg, by Jorge Padilla, click here
Interview with Nicolas Petit, by Hans W. Friederiszick, click here
Interview with Ignacio Garcia Bercero, by Frédéric Jenny, click here
Interview with Andreas Mundt, by Nicolas Petit, click here
Interview with Bruno Lasserre, by Olivier Fréget, click here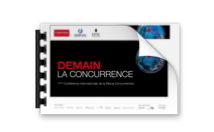 Click here to download the slides
ACCOMODATION
Date and time
Location
Ministry of the Economy
139 Rue de Bercy
75012 Paris
France