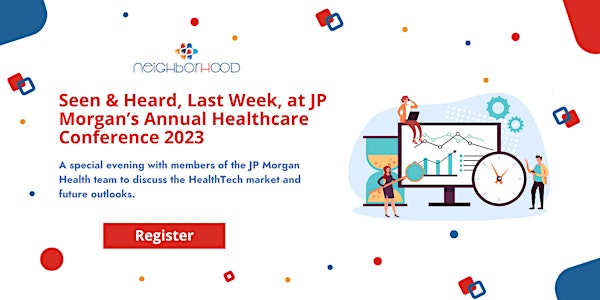 NEW DATE: Seen & heard, at JP Morgan's annual healthcare conference 2023
A special evening to discuss the JP Morgan Annual Healthcare Conference.
By Neighborhood Life Sciences Innovation Center
Date and time
Tuesday, February 7 · 7 - 10pm CET
Location
64 Av. Pierre Grenier 64 Avenue Pierre Grenier 92100 Boulogne-Billancourt France
About this event
NEW DATE on FEB 07 due to transportation strikes. Register here:
Rising interest rates have triggered a fall in market valuation, and an indirect brutal loss in appetite from VC and traditional life science investors.
Many Healthtechs, both public and private, are currently struggling to raise funds.
The JP Morgan Health Care conference held on the week of the 9th of January, and numerous other meetings that took place around it, offered invaluable moments to take the pulse of the sector.
Here are a few questions we'll ask to our speakers, who are coming back from San Francisco :
• How do financial investors evaluate the current situation : cycle-management or bubble burst ?
• How are big pharma sailing this troubles waters : conservative or opportunist ?
• I/O, gene & cell therapies… are there new keywords and new players in the game ?
• Give me one (or many) reasons to be (very) optimistic for the future ?
The invited speakers:
Emmanuelle Deponge
CEO of Touline Lifesciences
Emmanuelle Deponge has spent the last 15 years working as a VC dedicated to early stage investment companies in life sciences and health technologies at Go Capital and Apicap. She has invested in medtech, biotech and digital health companies in France and Europe. She continues this activity as a BA and as venture partners and advisors for VC firms. She also advices to startups on their equity story prior to fund raising. She contributes as a Strategic Partner to LallianSe, a private healthcare innovation integrator founded in 2015 and headquartered at AH-HP in Paris. Emmanuelle is a scientist by training (engineer and PhD) and holds a master degree in Intellectual Property Law and is AMF accredited.
Pierre Courteille
Chief Commercial Officer & VP Business Development at Abivax
Pierre has more than 25 years of experience in business operations, sales and marketing, and business development within the pharmaceutical industry. He holds a pharmacy degree and an MBA from the University of Chicago Booth (USA). At the start of 2005, he joined Guerbet where he successively held the positions of President of Guerbet Japan, Vice-President Asia, Senior VP Sales and Marketing and CEO of MEDEX (medical devices company owned by Guerbet). He joined Abivax in 2015. Pierre is board member and treasurer of Healthtech for Care, the endowment fund in charge with the organization of the yearly Healthtech Innovation Days (HTID) in Paris. He is also the President of both The Chicago Booth Alumni Club of France & The University of Chicago Alumni Association of France.
Samuel Levy
Founding Partner at Lauxera Capital Partner
He started his career as a management consultant at McKinsey & Company in New York before moving to Boston to attend Harvard Medical School. As a second-year medical student, Samuel co-founded Allurion Technologies and built a fully-integrated, global medical device company from the idea stage to commercialization in more than 30 countries. Samuel is a graduate of Yale College (summa cum laude) and Harvard Medical School. He was a Fulbright Scholar to France at the Pasteur Institute. Based in Paris and San Francisco, Lauxera is an asset management company focused on growth companies in healthcare.
Yann Gaston-Mathe
Co-Founder and CEO at Iktos
Graduated from Ecole Polytechnique Paris and AgroParisTech, he has more than 20 years of experience in pharma R&D, strategic consulting and entrepreneurship in biotech. Co-founder and CEO, Yann leads the development of Iktos with his knowledge of the pharmaceutical industry and a broad understanding of methods, approaches, and tools of data science. Iktos was founded in 2016 with the aim of developing an innovative and user-friendly technology platform for deep learning-based de novo drug design with a proprietary algorithms.
Olivier Soula
Deputy General Manager at Adocia
Olivier Soula has a PhD in polymer science, graduated from ENSIC Mulhouse, and has an MBA from IAE, Lyon. He worked for 8 years at Flamel Technologies as Director of the Nanotechnologies department. He led the development of Medusa, a prolonged release platform of therapeutic proteins and successfully conducted clinical trials for three of those projects. Olivier is co-author of nearly 40 patents relating to protein delivery. He has worked for 16 years on insulin formulation.
About the organizer
Neighborhood life sciences innovation center of VCLS (Voisin Consulting Life Sciences), supports health tech entrepreneurs providing strategic mentorship and resources, experts and office space for growth. We offer regular meetups to share and learn experiences in health tech product development. All of our events are FREE and OPEN to everyone, so feel free to share them with your friends and colleagues. It is an excellent moment to meet your health tech "Neighbors", sharing ideas, experiences and fresh beers!