Sales Have Ended
Registrations are closed
Online registration is now closed, thank you for the interest in our event and please, get in touch if you want to hear from us for the future sessions! Sandra, Mélanie and Daniela
Sales Have Ended
Registrations are closed
Online registration is now closed, thank you for the interest in our event and please, get in touch if you want to hear from us for the future sessions! Sandra, Mélanie and Daniela
Belonging in the European workplace and what it takes to drive real change.
About this event
If companies want to build diverse, inclusive and equitable workplaces, then their actions must match their words. Public commitments to diversity, equity and inclusion (DEI) on social media and company websites don't mean much if leadership teams don't follow through on their promises and the voices of underrepresented groups continue to be ignored.
In a conversation with three panelists on their lived experiences as members of underrepresented groups in European organizations, we'll explore:
What it means to belong in the European workplace
Why it's critical to factor intersectionality into DEI efforts
How organizations can be held accountable to drive real change by incorporating DEI into core business strategy
We'll hold an optional 20 minutes of Q&A after the first hour.
Who should attend?
This session is aimed to help HR and business leaders in European organizations embrace diversity, equity and inclusion through continuous accountability and learning. But anyone who is interested in learning more about DEI in Europe is welcome to join us!
Proudly supporting the Mwasi Collectif.
We are proud supporters of the Mwasi Collectif and encourage all attendees to donate to the collective to fund therapy sessions for Black women living in Paris who are survivors of sexual violence. You can donate directly to them here.
The event will be recorded and close captioned.
Please note that the event will be recorded and close captioned and the recording will be made available to all attendees after the event. If you have a disability or special need that requires accommodation, please contact us and we'll do our best to accommodate your needs.
Meet the panelists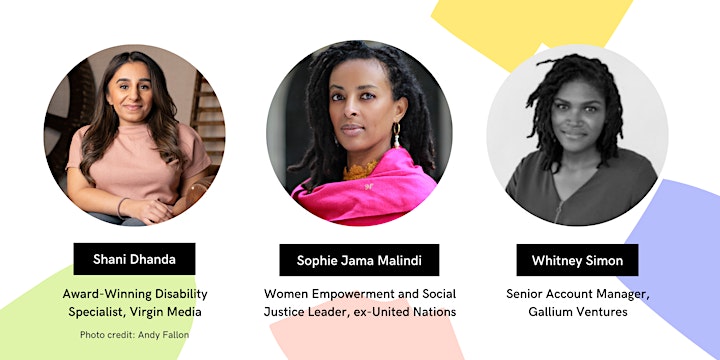 Shani Dhanda is an award-winning disability specialist, listed as one of the UK's most influential disabled people. As a keynote speaker and practitioner for inclusion across business, government, non-profit and wider society, Shani helps organisations break barriers and integrate inclusion into their business frameworks. Shani's style and approach are described as 'a winning combination of authenticity and passion, helping to remove the awkwardness and fear of having confident conversations about disability within business and society.'
Sophie Jama Malindi is a women empowerment and social justice leader. After a 14-year career in the United Nations, Sophie began pursuing her individual calling: sharing her journey of being a young Ethiopian refugee, separated from her parents, integrating her own story within a narrative of change. Sophie aims to heal inter-generational wounds by speaking the 'unspeakable', breaking the narrative of silence. She is currently writing a book, Soul Child: Speaking the Unspeakable.
Whitney Simon is a Senior Account Manager at Gallium Ventures, a boutique PR & Marketing agency based in London, where she works with various B2B/B2C tech brands. Relocated from San Francisco, Whitney has worked with various non-profits and social enterprises focussed on getting more people from underrepresented backgrounds into the tech sector, including Out & Equal, Code2040, Black Girls Code, and Nex Cubed.
Meet the organizers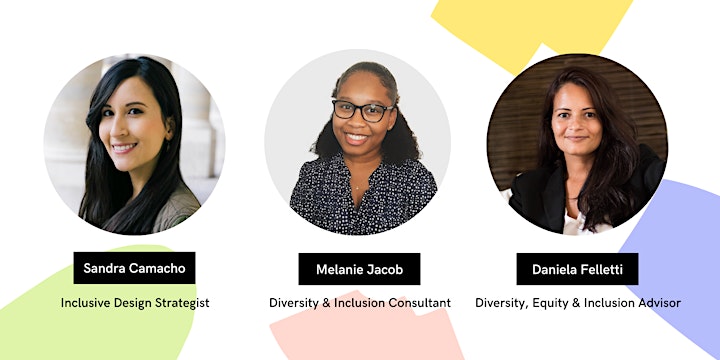 We are 3 international diversity and inclusion practitioners based in France with a joint mission to make diversity, inclusion and equity efforts more effective and impactful in Europe.
Sandra Camacho is a Franco-Colombian-American inclusive design strategist and innovation consultant based in Paris. After 8 years at Google, she founded Sandra By Design, with a mission to empower Tech organizations to build more inclusive products, services and workplace cultures.
Melanie Jacob is a D&I Consultant who hails from the Caribbean island of Saint Lucia. She primarily focuses on helping media agencies understand why they need to create and produce media content that shines a positive light on members of historically marginalised communities.
Daniela Felletti is a multilingual professional specialised in Diversity, Equity and Inclusion Advisory for Executive Level, a Lecturer & Speaker in Equality Approach and Inclusive Leadership in Companies and Business School. She is also an international community builder and changemaker. Her quote-moto: "You can not solve a problem with the same consciousness that created it. You must stand on a higher ground." - Albert Einstein