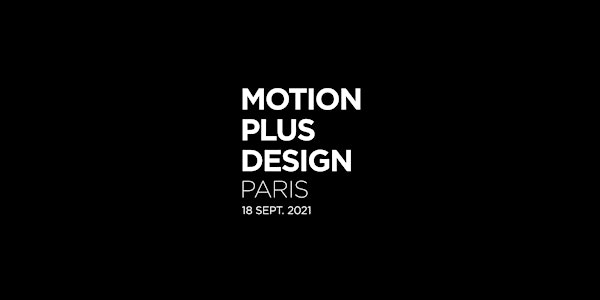 Motion Plus Design Paris 2021 - Livestream
⚠️ Livestream tickets only! All talks are in ENGLISH (no subtitles)⚠️
About this event
FAQ
Where does the event take place?
This event takes place at Théâtre du Gymnase in Paris.
What is the duration of the event?
The event is on Saturday, September 18 from 10am to 7pm, Paris time. It will then be accessible on demand for 7 days.
Can I watch it later on demand?
Yes! Livestream ticket holders will have access to the talks on demand for 7 days (until September 26, 23:59 Paris time).
I bought my ticket, how can I access the livestream?
Once you have purchased your ticket, you will receive a link from Eventbrite by email.
You will also receive 3 reminders:
- 2 days before the start of the event,
- 2 hours before the start of the event,
- 10 minutes before the start of the event.
If you don't receive any mail from Eventbrite, check your spams!
Do I need to download any software to attend the event?
No, just click on the link from Eventbrite's email. If the video doesn't play, try to reload your page or download the latest version of Firefox or Google Chrome.
What is the program of the day?
The program will be available on our social networks one week before the event. Ticket holders will also receive it by email. The day will have breaks, including a one-hour lunch that will encourage you to talk with the community and our partners in a virtual chat room.
How do I join the online chat?
Under the video player, you will find a link to access the online chat. Just choose a nickname and provide your date of birth to participate. Then enter your email and choose a password to finalize your registration.
In which language is the event?
All the talks will be in English.
Is the event subtitled?
No subtitle will be available for this event.
Can I have an invoice?
The confirmation email serves as an invoice.
What is your exchange/refund policy?
For livestreams tickets, no refund will be available.
What is your exchange/refund policy?
Refund untill 7 days before the event. Eventbrite fees are not refundable.
How can I find out about upcoming Motion Plus Design events?
When you buy your ticket, you will be asked to fill a short form. Answer "Yes" to the question "Would you like to subscribe to this event newsletter?". You can also follow us on our social networks and on our website: motion-plus-design.com
Instagram: https://www.instagram.com/motionplusdesign/
Twitter: https://twitter.com/Mo_Plus_Design
Facebook: https://www.facebook.com/motionplusdesign/
Linkedin: https://www.linkedin.com/company/motionplusdesign
Can we become event partners?
Yes, Motion Plus Design offers different sponsoring options for its events in Paris, Tokyo, Los Angeles and in more than fifteen cities around the world. Contact us on: sponsors@motion-plus-design.com
I am a journalist, who should I contact?
If you have any questions regarding the press, please contact: press@motion-plus-design.com