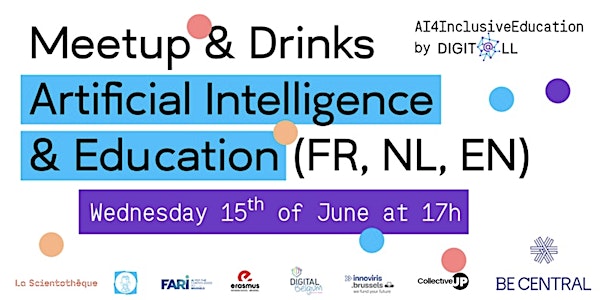 Meetup & Drinks - Artificial Intelligence & Education (FR, NL, EN)
Location
Becentral
10 Kantersteen
#12
1000 Brussel
Belgium
Meetup and Drinks on Artificial Intelligence and Education for Belgium at BeCentral our partner
About this event
AI4InclusiveEducation - DIGIT@LL (Français & Nederlands - below)
Are you passionate about Digital Technologies? Are you an educator or do you train young people (from toddlers to young adults) on Digital Technologies and Artificial Intelligence skills?
Come and join us for a relaxed gathering. You have an opportunity to meet and share experiences around a few drinks and some finger food.
When: Wednesday 15th of June at 17h, Room: The Factory (2d Floor)
You're always welcome to join last minute, but for organisation purposes, we love it if you can confirm through this Eventbrite (lien + QR code).
This event is organized for AI4InclusiveEducation.
It is organized by DIGIT@LL: a partnership by FARI.brussels, La Scientothèque and BeMaker to raise digital skills for young people. It is funded by the federal Digital Belgian Skills Fund and Innoviris.brussels. With the support of Erasmushogeschool and Collective Up.

AI4InclusiveEducation par DIGIT@LL - Nederlands en dessous
Vous êtes passionné par les technologies numériques ? Êtes-vous un éducateur ou formez-vous des jeunes (des tout-petits aux jeunes adultes) aux technologies numériques et à l'intelligence artificielle ?
Venez nous rejoindre pour une rencontre décontractée. Vous aurez l'occasion de vous rencontrer et de partager vos expériences autour de quelques boissons et de quelques amuse-gueules.
Quand : Mercredi 15 juin à 17h, Salle: The Factory (2ème étage)
Vous êtes toujours les bienvenus pour vous inscrire à la dernière minute, mais pour des raisons d'organisation, nous apprécierions que vous confirmiez votre présence via cet Eventbrite (lien + QR code).
Cet événement est organisé pour AI4InclusiveEducation.
Il est organisé par DIGIT@LL : un partenariat entre FARI.brussels, La Scientothèque et BeMaker pour améliorer les compétences numériques des jeunes. Il est financé par le Digital Belgian Skills Fund et Innoviris.brussels. Avec le soutien de Erasmushogeschool and Collective Up.
AI4InclusiveEducation door DIGIT@LL
Ben je gepassioneerd door Digitale Technologieën? Ben je een leerkracht of train je jongeren (van peuters tot jongvolwassenen) op het gebied van Digitale Technologieën en Artificiële Intelligentie vaardigheden?
Vergezel ons dan op deze ontspannen bijeenkomst. Je hebt de kans om elkaar te ontmoeten en ervaringen uit te wisselen met een natje en een droogje.
Wanneer: Woensdag 15 juni om 17u, Kamer: The Factory (2e verdieping)
Je bent altijd welkom om last minute aan te schuiven, maar voor de organisatie vinden we het fijn als je via deze Eventbrite (lien + QR code) kunt bevestigen.
Dit evenement wordt georganiseerd voor AI4InclusiveEducation.
Het wordt georganiseerd door DIGIT@LL: een partnerschap tussen FARI.brussels, La Scientothèque en BeMaker om de digitale vaardigheden van jongeren te verhogen. Het wordt gefinancierd door het federale Digital Belgian Skills Fund en Innoviris.brussels. Met Collective Up & de Erasmushogeschool Brussel.