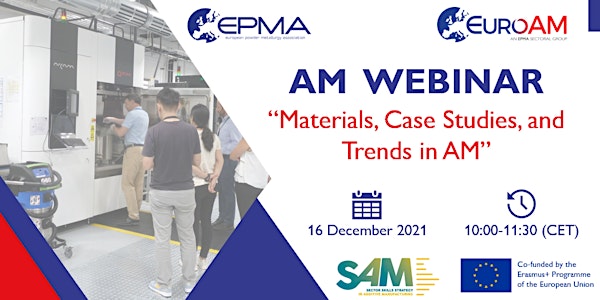 Materials, Case Studies, and Trends in AM
The presentation of the speakers' business practice and work experience with their own words.
About this event
The webinar will focus on the idea of sharing information about new materials, trends and case studies in AM by members of EPMA's EuroAM Sectoral group. This will help students, young engineers and industry representers to understand and learn about the new trends in Research and Standardization, new materials developed by powder producers for Metal AM, and latest interesting and attractive case studies.
PROGRAMME
10h00-10h10 Welcome & Introduction
(Kenan Boz, EPMA)
10h10-10h30 AM Case Studies and EuroAM Activities
(Adeline Riou, Eramet)
10h30-10h50 Trends in Research and Standarization activities
(Claus Aumund-Kopp, Fraunhofer IFAM)
10h50-11h10 Overview of Materials and Processes in AM
(Paul Davies, Sandvik)
11h10-11h25 Questions & Answers
11h25-11h30 Conclusions & Closing