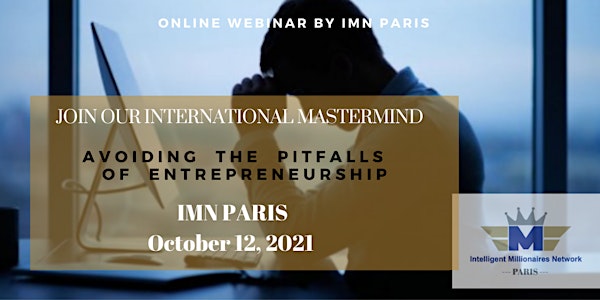 Mastermind Live Webinar: Avoiding the pitfalls of entrepreneurship
Flirting with the idea of becoming financially independent? In reality, the desire of having a business is never enough to truly make it.
About this event
A lot of people are flirting with the idea of becoming financially independent but the reality is that the desire of having a business is never enough to make it in the entrepreneurial world.
Becoming their own boss has almost pushed people to create in their mind a perfect, ideal image of what the entrepreneurship road would look like for them.
The truth is that running a business is much more than a hobby, is rarely the situation of "I do what I want when I want and if I feel like it" . That's why most entrepreneurs give up within the 3 years, usually because the profit is just not there. This is just the surface of the problem, the true question is "why they didn't make enough money"?
When the effort is too high and the result that we foreseen is not the value of what we want, obviously we will not continue to do the effort. And that is why we wanted to share in this Mastermind our 5 tips that should keep any entrepreneur away from the most common pitfalls of the entrepreneurial life. We will dive deeper into the mindset of a resilient business owner that embraces these 5 key components:
1. Discipline
2. Endurance
3. Support
4. Focus
5. Stepping back
We will be LIVE on Zoom and available for Q&A at the end of the presentation.
***************************
As a premium business club based in Paris, we focus on giving the tools, support, and the right connections to the business owners that are action and value-oriented.
Every second Tuesday of every month, 7.30 PM Paris time, we are organising interactive Mastermind Webinars, which are proving to be already value-added for our Members. Evidence is the loudest voice so we well let you discover the benefits of our masterminds, inspired by real challenges and questions coming from entrepreneurs.
IMPORTANT
This event is taking place online and an access code is required in order to log in on the Zoom platform.
You will receive the access link, by email, at the latest 1 hour before the event is scheduled to start.
-----------------------------------------------------------
*** **Past Events by IMN Paris
September 14 - Mastermind "Optimism and entrepreneurship in 2021"
June 8 - Mastermind "Closing deals on current digital platforms "
May 11 - Mastermind " Back to business basics - The SMART Technique "
April 13 - Mastermind "Identify the business cycles as an entrepreneur"
-----------------------------------------------------------
Connect with us on Social Media
#Facebook https://www.facebook.com/IMN-PARIS-1008310126028222
#Instagram https://www.instagram.com/imnparis
#twitter https://www.twitter.com/ImnParis
*** **IMN Paris Podcast - A new episode every Monday
https://anchor.fm/grownow