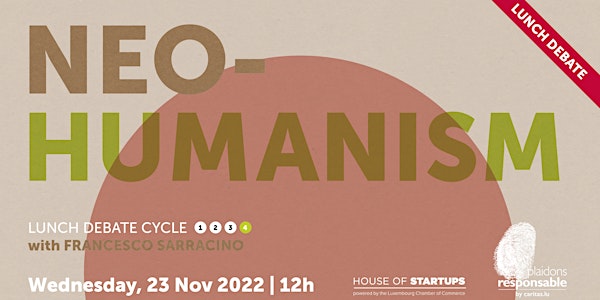 Lunch Debate cycle on happiness and sustainability (4/4)
Fourth and last out of a four lecture cycle by Francesco Sarracino, a happiness economist and researcher.
When and where
Location
HoST 9 Rue du Laboratoire 1911 Luxembourg Luxembourg
About this event
Caritas Luxembourg is organising a 4 lecture lunch debate cycle with Francesco Sarracino in the Big Bang room at House of Startups. Come enjoy some vegan food whilst learning about an alternative future for our society and our economic model.
4. A virtuous cycle
Neo-humanism offers a new narrative for social progress, and a cohesive reform of modern societies. Neo-humanism is a movement informed by quality of life studies to put humankind and the environment at the center of societies' attention. It re-discovers the foundations of what makes a life worth living and proposes to organize modern societies accordingly. The basic idea is that it is possible to establish a virtuous cycle whereby promoting social relations is the first step to promote well-being, protect the environment, and promote productivity in a self-reinforcing loop. Economic growth will become a desirable, but not necessary consequence of humans' activity, while people's ability to enjoy life will be independent from the resources they own.