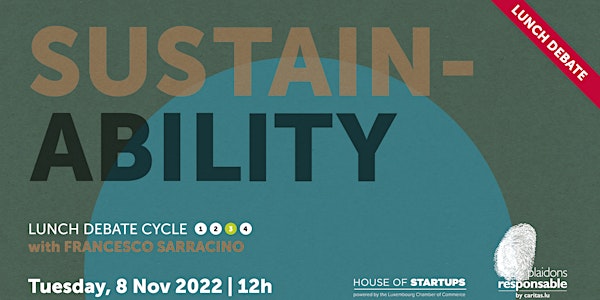 Lunch Debate cycle on happiness and sustainability (3/4)
Third out of a four lecture cycle by Francesco Sarracino, a happiness economist and researcher.
When and where
Location
HoST 9 Rue du Laboratoire 1911 Luxembourg Luxembourg
About this event
Caritas Luxembourg is organising a 4 lecture lunch debate cycle with Francesco Sarracino in the Big Bang room at House of Startups. Come enjoy some vegan food whilst learning about an alternative future for our society and our economic model.
3. An alternative explanation of unsustainability
People's greed and lack of care for future generations are usually seen as the origin of unsustainability and of the environmental tragedies of our time. Defensive growth theory provides an alternative explanation to unsustainability: the more people care for the environment and for future generations, the more they can adopt behaviors that harm the environment. This paradoxical outcome is possible when collective action is impossible: the less people believe that others and the institutions can be trusted to do their part in a collective effort, the more they will turn to private solutions that ultimately harm the environment. This suggests that promoting trust and social relations facilitates the uptaking of environmentally friendly behaviors and complying with public policies.