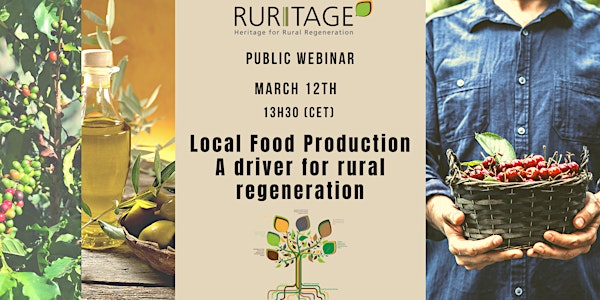 Local Food Production. A driver for Rural Regeneration
Learn how RURITAGE is using local food production to enhance and regenerate rural areas.
About this event
Food and gastronomy embody agricultural practices, landscape, local history and traditions, symbolizing the cultural heritage of a territory and are becoming ever more relevant in improving the economic and environmental sustainability of both tourism and agriculture. Food serves as a strong connection between nature and human society bringing together land, heritage and the people. It is a diverse and dynamic channel for sharing stories, forming relationships and building communities. Emphasizing a landscape with edible experiences creates an authentic 'taste of place'.
In the context of RURITAGE, several partners have been developing their local food potential and through it, regenerating their rural areas.
At the foothills of the Andes in Colombia, what is considered to be, the world's softest coffee is grown and produced. The cultural landscape of Colombian coffee production was recognized as a Cultural Landscape by UNESCO in 2011 due to its remarkable example of human adaption to complex geographic conditions. These fields have come to symbolize the tradition of coffee growing worldwide. The Federación Colombiana de Municípios will join this webinar to tell their experience in sustainable coffee production.
At the "heel" of Italy's boot, the region of Apulia has been able to successfully combine the local natural and cultural heritage with innovation and technology. By establishing policies aimed for innovative development together with investment incentives, the growth of local production systems has increased attracting a high number of international industrial groups, leading to a tourism boost and increasing job offers. Our partners from DARE – Distretto Tecnologico Agroalimentare, will share their experience in collaborating with researchers, smaller business and stakeholders within the agri-food sector.
Magma UNESCO Global Geopark is located in southwest Norway, covering five municipalities. The landscape is formed by gentle slope tilted towards the coast and interrupted by hundreds of small valleys and over 6,000 lakes. With little soil, the agriculture in the area is based on fishing, sheep and cattle farming. Magma Geopark will share their experience in of supporting and enhancing local food production through development of products and branding gained while participating in RURITAGE.