1-day online training for innovation managers, project managers and decision makers
About this event
DESIGN SPRINT DISCOVERY TRAINING - CORPORATE INNOVATION
Discover the Design Sprint methodology and its business value. Learn how to integrate it as a core-innovation process in your organization. This is a discovery course focused on the impact of the process for companies. Unlike our more advanced facilitation Masterclasses this training is adapted to large groups.
This is not a video or e-learning, but a highly interactive and personal LIVE experience. We will work together, in small groups, remotely using Zoom and Miro. Hello 2021!
- - -
Wednesday, January 26 (9:30 to 16:30 CET )
Live, online. Paris / Bern / Brussels time - Central European Time (CET).
The minimum number of participants for this course is 6
Course
Origins of the design sprint at Google Ventures
Design Thinking vs Design Sprint
Assemble the right team
The 5 phases of the methodology
The ROI of the design sprint
Case studies and prototypes examples
User testing, and the importance of iteration
In-person vs remote workshops
Sell the design sprint to your boss
Material
Participants must be equipped with recent computers
Google Chrome Browser
Zoom videoconference
Good headphones / earphones and microphones
Important: this is an introductory course (level 1). It is reserved for innovation managers, project managers and C-levels, HR managers, product owners, UX, CX or business oriented consultants.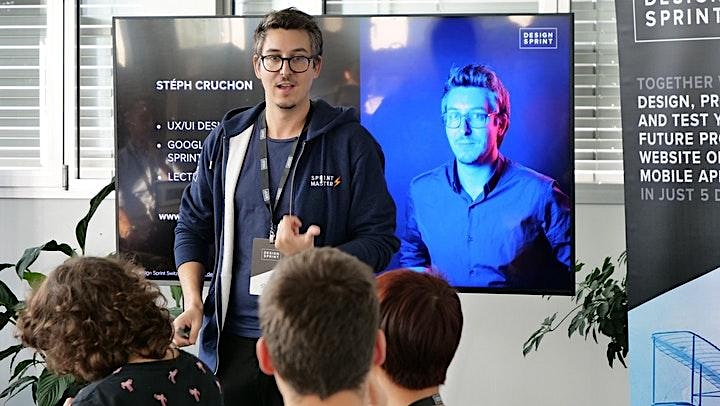 Trainer
Steph Cruchon CEO, Designer, Facilitator, Lecturer and Innovation expert. He is the founder of Design Sprint Ltd with more than 17 years of experience in product design, and services.
Steph is one of the pioneers of the Design Sprint methodology in Europe and its main evangelist in Switzerland. He is author of "The Design Sprint Quarter", a three-months strategy for transforming promising ideas into viable products. He helps startups and companies to rethink their working habits and to turn their promising ideas into products and services. Steph has personally run full-week Sprints with more than 60 companies across various industries (Adobe, WHO, Medallia, Swiss Re, Autodesk, Somfy, Swissquote, l'Oréal, Romande Energie, Invision, Kudelski , and many more) to conceive and fast prototype their services, strategies and products.
He personally facilitated more than 120 sprints, and will guide you through this process by presenting concrete case studies and answering all your questions about the implementation of the Design Sprint in your organisation.
He runs design sprints in both French and English.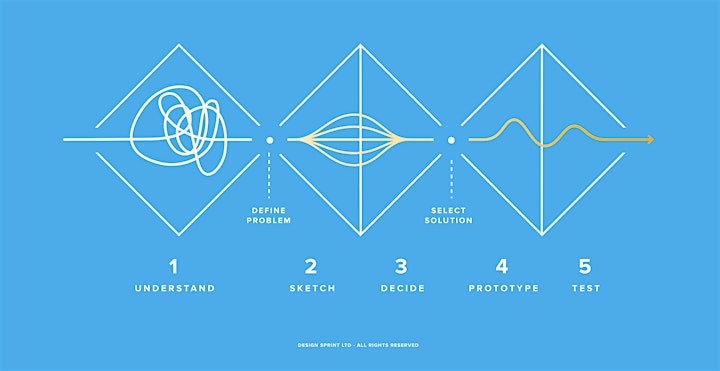 DESIGN SPRINT CAN BE USED IN MANY CONTEXTS
Used by some of the world's most innovative companies such as Google, Slack, Uber, Facebook, BBC, or Zalando, Design Sprint provides an undeniable competitive advantage. It's a pragmatic and effective way to integrate Design Thinking and UX Design into an organization based on co-creation and collaboration.
Crisis management, team alignment
Innovation
Creation of web products, software
Services
Physical products
Marketing, advertising and strategy
Internal processes
Learn how to
accelerate innovation in your organization in an exciting but pragmatic way
sell innovation workshops too your clients or internally
develop the skills and increase empowerment in your team
enable them to design products and services in a more efficient way
introduce Agile and Lean startup in the company
understand the main principles of user-centered design (UX)
Who is this course for?
Innovation managers
Facilitators
Designers (UX, Design Thinking)
Product managers
Product owners
Team leaders
Consultants
Developers and engineers
Academics
Anyone who wants to increase their impact on key projects
- - -
ABOUT US
Design Sprint Ltd are pioneers in Europe of Design Sprint, a methodology originally developed at Google Ventures. Our clients in Switzerland, France, and around the world come from a variety of industries challenging their services, digital and physical products: banks, insurance companies, healthcare institutions, health tech start-ups, energy, government, and public authorities. We work regularly with Jake Knapp, the creator of the methodology at Google, on the classic Design Sprint and its online and hybrid evolutions.