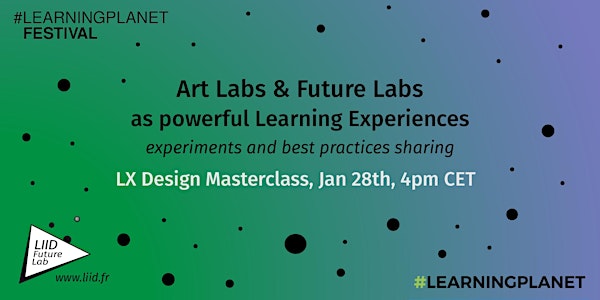 Learning Planet Festival Masterclass: Art & Future Labs as Powerful LX
As part of the 2022 Learning Planet Festival, Masterclass to discover innovative Learning Experiences designed as Art Labs and Future Labs
About this event
During this 90mn masterclass, Raphaële Bidault-Waddington, artist, researcher and founder of LIID Future Lab, will share a great diversity of artistic and future oriented experiments, showing how they become powerful learning experience (LX). Q&A will be taken for each presented case.
A broad scope of learning formats, contexts (school, academic research, work and culture) and profiles will be covered, from senior and highly educated executives, to Masters students or youth in difficulty, showing how, in all cases, a "creative lab" culture fosters learning desire, openness and empowerment. By definition, a "creative lab" thoroughly combines creativity, knowledge and experiment ...
As a relaxed and discovery-oriented Friday afternoon, the discussion with participants will allow to collectively look for additional insights on creative pedagogy, futures literacy and LX innovation.
The zoom link is sent in the registration confirmation email.
Additional info
Initiated in 2000 as an art project, LIID Future Lab (www.liid.fr) has become today a hybrid foresight research platform with more than 15 yrs of experience designing art-based and future labs for schools, universities, cities, cultural institutions and companies.
Among a diversity of international collaborations with art, urban design, technology and business schools, it has been awarded a series of pedagogy innovation, artistic and future research grants from the City of Paris in the last ten years.
Learning Planet Festival: https://festival.learning-planet.org/
Tribune published by Raphaële Bidault-Waddington to advocate for training and creativity to tackle the Covid crisis in 2020: https://medium.com/@rbidaultwaddington/covid-19-an-economic-resilience-strategy-via-training-and-creativity-fffcd04b50f6