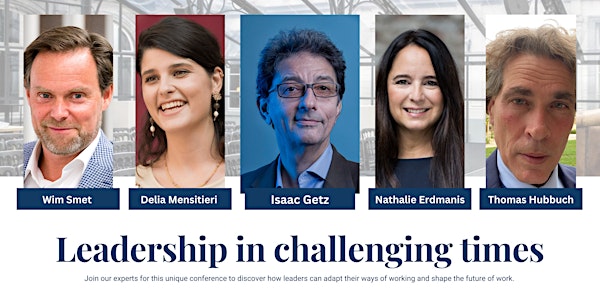 Leadership in challenging times & Keynote Isaac Getz (Liberated Company)
Conference on leadership with the exceptional participation of Isaac Getz, researcher who has theorised the concept of Liberated Company.
Date and time
Friday, March 24 · 3:30 - 7pm CET
Location
TheMerode 6 Place Poelaert 1000 Bruxelles Belgium
About this event
3 hours 30 minutes

Mobile eTicket
Leadership in challenging times
How to lead organisations and build team success in adversity.
AION Consulting is proud to invite you to an exceptional conference in presence of Isaac Getz, international speaker, professor at ESCP Europe and researcher who theorised the concept of Liberated Company.
On Friday 24th, March 2023, Isaac Getz will join us to provide an exceptional keynote about how organisations can adapt their ways of working in troubled times.
In introduction to this keynote, a round table and debate will be organized with the participation of:
- Delia Mensitieri, PhD in Diversity & Inclusion from UGent, international speaker and Associate Consultant in DEI
- Thomas Hubbuch, Entrepreneur, international speaker and former CEO of Tiense Suikerraffinaderij/Raffinerie Tirlemontoise
- Nathalie Erdmanis, Director Sustainability at AG Insurance & Ageas
- Wim Smet, HR Director at BNP Paribas Fortis
Agenda
15:30 - Welcome
16:00 - Round table on "How to lead organisations and build team success in adversity"
17:00 - Keynote of Isaac Getz on "How to unleash freedom and responsibility of employee action in your organisation"
18:00 - Networking drink
Do not miss this exceptional event at The Merode in Brussels!
About Isaac Getz
Isaac Getz is an author, conference speaker, senior advisor and currently holds the post of Professor at ESCP Business School.
He specializes in the areas of leadership and organizational transformation and has been instrumental in the modern corporate liberation movement involving hundreds of companies and institutions in Europe and Canada.
Getz is the co-author of the award-winning international best-seller Freedom, Inc. (2009) with Brian Carney, which has been translated into fifteen languages. He is also author of the award-winning Liberated Company (2017), co-author of Leadership without Ego (2019) with Bob Davids and Brian Carney and co-author of The AltruisEc Enterprise (2019) with Laurent Marbacher.
He is a columnist in Harvard Business Review France and Le Monde and won the best Op-Ed 2017 award.
Dr. Getz is a sought after public speaker on the topics of innovation, employee engagement, corporate transformation, and leadership. He has given executive conferences, keynote speeches and training seminars for hundreds of companies, organizations, and summits including multiple TEDx events, Peter Drucker Global Forum in Vienna and Stanford Executive Briefings.
About AION Consulting
AION Consulting is a Liberated Company in Strategy consulting. We optimise your organisation's performance by providing expertise and advisory in Operational Strategy.
Our consultants assist a wide range of large industrial companies, institutions, as well as startups and SME's. We support organisations through services in strategy and transformation to help them reach financial and operational performance.
At AION Consulting, we believe in decentralized management where individuals are autonomous and independent, while being part of a global structure. This approach is facilitated and stimulated with the aim of distributing authority and decision-power throughout a holarchy of self-organizing circles rather than being vested in a management hierarchy.
This event is organised in collaboration with BECI and The Merode.