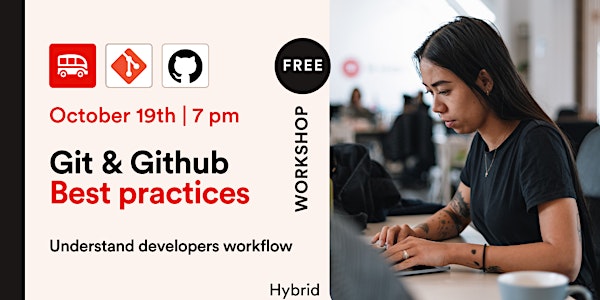 Le Wagon Casablanca - Git and Github : Best Practices
[FREE WORKSHOP] Git & Github : Best practices !
When and where
Location
Le Wagon Casablanca 380 Boulevard Brahim Roudani, Casablanca (Campus EMSI Roudani) Casablanca, 20250 Morocco
About this event
💥 Pour suivre cet événement, inscris-toi par ici 👉 : https://bit.ly/3dQUcZy
Apprendre à utiliser des outils comme Github facilitera le flux de travail et la communication avec votre équipe tech.
Ce que vous apprendrez dans cet atelier :
✨ Ce qu'est exactement "git"
✨ Comment Github fonctionne avec des cas d'utilisation réels.
✨ Comment communiquer efficacement avec les développeurs et quelles directives vous devez suivre.
Déroulé :
Vous serez inscrit sur la plateforme en ligne du Wagon, où vous aurez accès aux diapositives, à un résumé des concepts les plus cruciaux et à des activités pour continuer à apprendre après l'atelier.
Vous aurez l'occasion de pratiquer du code avec l'instructeur tout au long du workshop, cet atelier sera en ligne et sur site au campus de Wagon Casablanca.
À propos du Wagon :
Le Wagon est une école de code internationale spécialisée dans les bootcamps immersifs , on vous enseigne les compétences techniques nécessaires pour réussir votre carrière dans la tech.
Nos programmes de pointe et nos enseignants de classe mondiale vous donnent toutes les compétences et ressources dont vous avez besoin pour lancer votre carrière dans la technologie, vous améliorer dans votre poste actuel ou fonder votre propre start-up.
Lancés en 2014 à Paris, nous organisons des bootcamps dans plus de 46 villes à travers le monde.