a 35 minutes immersive live show in Virtual Reality for 10 spectators and 2 dancers.
About this event
Le Bal de Paris de Blanca Li is an immersive, participative and interactive project intended to be experienced in full body awareness together with 10 spectators and 2 professional dancers performing the main characters in a physical space. This is the live multi user version which can be experienced during the Venice Film Festival, at Conservatorio di Musica Benedetto Marcello, in addition to the online version included in the official VR program of the Venice Film Festival, which is a standalone single user approach of the live one.
In Le Bal de Paris de Blanca Li, we find Adèle who celebrates her coming home to Paris with a great ball organized by her parents in her honor. Pierre, one of the guests, will change the course of the party.
Each spectator will first choose his/her Chanel costume, and personalized Avatar, and he will then be invited to follow Adèle's love story unfolding in three acts. Main characters played by the dancers will guide the spectator through a virtual and fantastic universe, with three main locations to party: a monumental ballroom, a magical garden party, and a Parisian club. Breathtaking transitions are staged on a lake and aboard a train.
Music and dance merge with virtual reality to offer you an innovative, festive, artistic and spectacular experience.
A universe as poetic as it is fantastic, imagined by Blanca Li.
A production from Compagnie Blanca Li in collaboration with BackLight and exclusive partnership with CHANEL.
Le Bal de Paris de Blanca Li is a live show in virtual reality, where the audience wears special equipment (VR headset, backpack computer and trackers on hands and feet).
RECOMMENDATIONS and details:
You will be standing and walking during the whole length of the experience. Wheelchairs are accepted.
We recommend to dress comfortably, have little or no make up on your face and eyes. 
Please avoid high heels, long dresses, wide skirts, or loose clothing that may cover wrist and ankle trackers. For headset comfort, also avoid wearing your long hair in high ponytails, or high buns.
You can wear your glasses, or contact lenses inside the VR headset. Reading glasses are perfectly suitable. People with vision on one eye only are welcome.
Children cannot be accepted under 13 years old. We recommend children from 13 up to 16 to come accompanied by an adult.
We reserve the right to refuse entrance to intoxicated people or presenting reckless behavior that may endanger other spectators and performers.
Phones will be required to be set in airplane mode.
Experience is not recommended for pregnant women.
People suffering from preexisting conditions that may interfere with Virtual Reality experience, such as psychiatric conditions, vision disorders, cardiac disorders or other serious medical conditions, people carrying implanted electronic devices such as pacemakers, hearing aids, defibrillators, and people suffering from epilepsy, convulsions, or fainting should consult with their physician prior to make a reservation, to make sure they can experience VR safely. A responsibility disclaimer release form will be signed by each spectator before entering the show.

The material used for the show is disinfected between each user and a totally Covid-safe sanitary protocol to avoid contamination will be in place.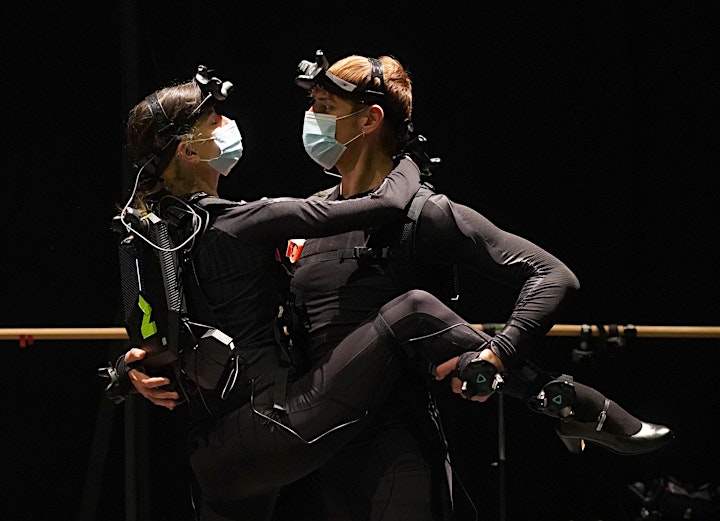 Le Bal de Paris de Blanca LI
design, libretto, direction and choreography Blanca Li
original music and musical direction Tao Gutierrez
direction of visual creation Vincent Chazal
costumes Chanel
virtual reality development BackLight Studio
motion capture Mocaplab
Alive (Elamedia Estudios)
sound integration Tape
dancers Margalida Riera Roig
Gaël Rougegrez
Antonio Carbonero
production
Blanca Li Company (Film Addict & Calentito)
coproduction
BackLight Studio (France)
Fabrique d'Images (Luxembourg)
Actrio Studio (Germany)
Chaillot – Théâtre national de la danse (France)
Teatros del Canal (Spain)
with the support and participation of
Centre national du cinéma et de l'image animée CNC (France)
Film Fund Luxembourg
Epic MegaGrants (USA)
HTC official virtual reality partner
Creative Europe MEDIA Programme of the European Union
City of Paris (France)
Medienboard Berlin Brandenburg (Germany)
DICréAM
exclusive partner
CHANEL
thanks to
Institut Français (France)
Rencontres de Coproduction du Film Francophone (Luxembourg)
Festival NewImages (Paris, France)
Geneva International Film Festival (Switzerland)
VR Days (Netherland)
Cannes XR (France)
Kaleidoscope (USA)
Centre Phi (Canada)
all the team from CHANEL
Organizer of Le Bal de Paris de Blanca Li
Blanca Li Dance Company, founded in 1992 in Paris, has been touring the world with 17 shows , the most recent being Le Bal de Paris de Blanca Li, a live immersive and interactive show in Virtual Reality. Previous shows include Elektrik, for 8 electro dancers, Solstice for 14 dancers and a musician.