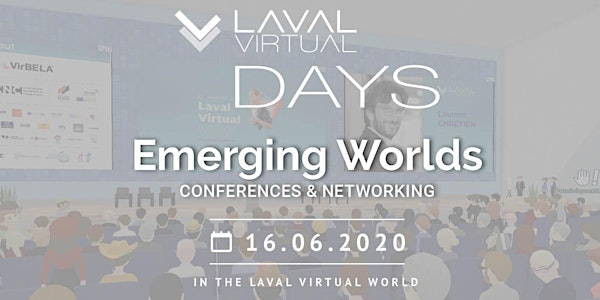 Laval Virtual Days Emerging Worlds
Laval Virtual Days Emerging Worlds
About this event
"Nothing is permanent except change" - Heraclitus
In recent months, a constant has changed: our lifestyles and work are to be reinvented. Alternative solutions become perennial solutions. Virtuality becomes inevitable.
Come and understand how. Enter the new worlds.
This virtual event will take place in the Laval Virtual World !
Program :
7 :30 pm - Welcome
8 pm - The Phoenix: Accelerating transformation through adversity (By Laurent CHRÉTIEN - Laval Virtual)
8:10 pm - Engaging your community in alternative ways (By Andrey LUNEV - XR Crowd)
8:30 pm - Hacking remote working platforms, how we did it? (By Alex HOWLAND - VirBELA and Harriet BARTLETT - Laval Virtual)
8:45 pm - Use Case by Othman CHIHEB - Product Marketing Lead - Microsoft
8:55 pm - Use Case
9:05 pm - Inception: virtual artworks in virtual spaces (By Judith GUEZ - Laval Virtual)
9:20 pm - Vision Panel - Down the rabbit hole: emerging worlds & new horizons (With Asha EASTON - Head of Immerse UK)
9:40 pm - Laval Virtual World, what's next? (By Valentin RÉGNIER - Laval Virtual)
9:50 pm - Conclusion (By Laurent CHRÉTIEN - Laval Virtual)
10 pm - Networking
- - -
About the event
In a few years, Virtual Reality and its related technologies have become essential. The growing interest of the media and a large public for this field, and the rapid evolution of the immersive techniques market, has given rise to a growing enthusiasm among professional audiences for these solutions. 
Laval Virtual is a leader, ahead of its time, and is constantly renewing itself by ensuring an international presence throughout the network.
Since 2014, in France and Europe, Laval Virtual has been organizing the Laval Virtual Days. Dedicated to a specific theme, these meetings allow to discover VR/AR solutions applied to business. The themes covered are all verticals related to a sector of activity. The Laval Virtual Days have an objective of evangelizing new technologies to a public of professionals. These events are part of the Focus series and are based on the results of creativity sessions, think tanks and also on the monitoring work carried out throughout the year by a team of experts.