Launching of the Alliance of Subnational Development Banks in Latin America by BDMG, AFD, FMDV and IDDRI.
About this event

Following the Finance In Common Summit held in November 2020, the opportunity of creating a SDBs Alliance for Latin America has been raised by the Banco de Desenvolvimento de Minas Gerais (BDMG), the French Development Agency (AFD), the Global Fund for Cities Development (FMDV) and IDDRI with the following objectives:
Align their initiatives, investments, and portfolios with the 2030 Agenda and the sustainable development goals (SDGs) and the Paris Agreement on climate,
Promote engagement on sustainable investments at the local level through portfolios of sustainable urban and territorial development projects and boost the financial urban and municipal markets;
Develop a strategic space for dialogues with peers, development institutions, governments, regulators, municipalities, investors and private firms, and technical and financial partners in the region;
Enhance the strategic role of SDBs and the contribution of the Alliance to the Global Agendas in international fora.
The Latin America SDBs Alliance represents the second regional chapter of the Global Alliance of SDBs after the Africa SDBs Alliance (created in 2016).
This launching event of the Alliance invites representatives from SDBs and NDBs (National Development Banks), national and local governments and PDBs (Public Development Banks) /DFIs (Development Finance Institutions) to exchange on the concept, objectives, and scope of activities of the Alliance, and to share their experiences and vision, with the following agenda: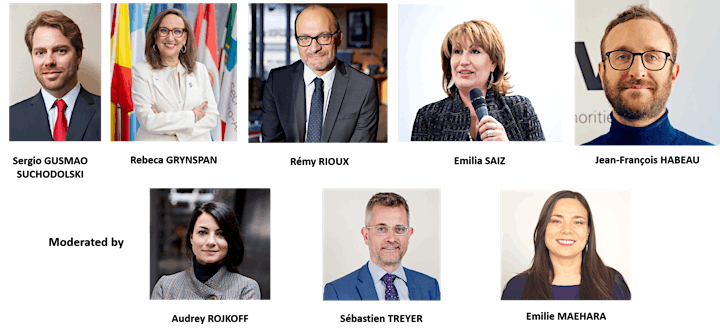 Opening:
Facilitated by Audrey ROJKOFF, Secretary-General, Finance in Common Summit
Rémy RIOUX, Chief Executive Officer, AFD
Sergio GUSMAO SUCHODOLSKI, President, BDMG
Keynote introduction: proposed objectives for the Alliance
Jean-François HABEAU, Executive Director, FMDV
Round table 1: "SDBs" as Policy and Market makers for local urban transition
Facilitated by Sébastien TREYER, Executive Director, IDDRI
With the parcipation of:
Jesus Alan ELIZONDO, President, Fideicomisos Instituidos en Relación con la Agricultura,
Sandra GOMEZ, President, Financiera De Desarrollo Territorial S.A.,
Leany LEMOS, President, Banco Regional de Desenvolvimento do Extremo Sul,
Carlos LINARES, President, Corporación Financiera de Desarrollo S.A.,
Valdecir José de TOSE, President, Banco da Amazônia, President,
Verónica WEJCHENBERG, Fondo de Garantías de Buenos Aires.
Keynote speeches :
Emilia SAIZ, Secretary-General, UCLG
Rebeca GRYNSPAN, Ibero-American Secretary-General
Round table 2: Enhancing the cooperation of Technical and Financial partners and Local governments with SDBs
Facilitated by Emilie MAEHARA, Deputy Executive Director, FMDV
With the parcipation of:
Jorge Saba ARBACHE, Vice-President for Private Sector, Corporación Andina de Fomento,
Jorge DE LA CABALLERIA, Head of South America and Regional Operations Unit, European Commission, Directorate for International Partnerships,
Dante MOSSI, President, Central American Bank for Economic Integration,
Juan E. NOTARO, President, Fonplata Development Bank,
Moises SCHWARTZ, Manager for Institutions for Development, Inter-American Development Bank.
David SISLEN, Practice Manager, Urban and Disaster Risk Management, Latin America and the Caribbean, World Bank
Conclusion :
Sergio GUSMAO SUCHODOLSKI, President, BDMG will conclude the meeting and will present the next steps of the Alliance.