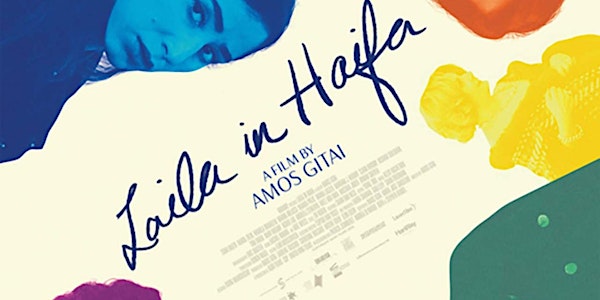 Laila in Haifa with Amos Gitai
Screening of Laila in Haifa followed by a conversation with Director Amos Gitai and Columbia University Professor Richard Peña.
When and where
Location
Reid Hall 4 Rue de Chevreuse 75006 Paris France
About this event
Join Columbia Global Centers | Paris for Rencontres du cinéma , a series of film screenings followed by conversations between their directors and Columbia University faculty.
The second event in the series includes a screening of Laila in Haifa (2020), directed by Amos Gitai. Laila In Haifa is set over one fateful night in a club in the port town of Haifa and explores the interweaving stories of five women. The film aims to present a snapshot of contemporary life in one of the last remaining spaces where Israelis and Palestinians come together to engage in face-to-face relationships.
The screening will be followed by a conversation between Amos Gitai and Professor Richard Peńa.
The film will be shown with the original Hebrew audio and English subtitles. The ensuing discussion will be in English.
Amos Gitaï is an Israeli film-maker, internationally known for his documentaries and feature films about the Middle East, the Arab-Israeli conflict, and personal and collective memory. Born in Haifa, Israel in 1950, he is the son of the Bauhaus-trained Polish architect, Munio Weinraub Gitaï, who fled the Nazi regime in Germany, where he was working in 1933, and the Israeli intellectual and activist, Efratia Margalit, a non-religious expert on biblical texts. While still an architecture student, Gitaï was wounded during the Yom Kippur War in 1973, when a medical evacuation helicopter in which he was travelling was hit by a Syrian missile. He has drawn on these biographical, familial and generational themes throughout his practice, as well as the trauma of war and the celebration of life in the face of adversity.
Gitaï's first feature-length documentaries House (1980) and Field Diary (1982) were rejected by the Israeli television commissioner. At odds with the authorities in his country, he settled in Paris where he shot several fictional and documentary films, including Esther (1985), Berlin-Jerusalem (1989) and Golem, the Spirit of Exile (1991). A passionate advocate for peace between Israel and Palestine, Gitaï further explores the role of memory in his stage productions, which combine film, music and acting. His performance Yitzhak Rabin: Chronicle of an Assassination Foretold (Festival d'Avignon, 2016) notably investigates the death of Yitzhak Rabin, a key figure in the Oslo Accords who was assassinated in 1995.
Richard Peña has been at Columbia since 1989, becoming full time in 1996 and being named Professor of Professional Practice in 2003; from 2006 - 2009 was a Visiting Professor in Spanish at Princeton University. Mr. Peña has also served as the Program Director of the Film Society of Lincoln Center and the Director of the New York Film Festival from 1988 to 2012. At the Film Society, he has organized retrospectives of Michelangelo Antonioni, Sacha Guitry, Abbas Kiarostami, Robert Aldrich, Gabriel Figueroa, Ritwik Ghatak, Kira Muratova, Youssef Chahine, Yasujiro Ozu, Carlos Saura and Amitabh Bachchan, as well as major film series devoted to African, Chinese, Cuban, Polish, Hungarian, Arab, Korean, Japanese Soviet and Argentine cinema.