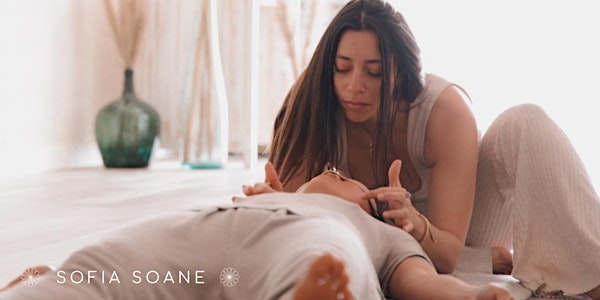 Multiple dates
Kundalini Activation Transmission : House of the Rising Mojo
Kundalini energy transmission : activation of your Kundalini energy for a life of abundance, alignment, joy and fulfillment.
Date and time
February 21 · 4:45pm - July 11 · 8pm WET
Location
House of the Rising Mojo 1 Calçada do Cravo 2640-086 Santo Isidoro Portugal
Refund Policy
Contact the organizer to request a refund.
Eventbrite's fee is nonrefundable.
About this event
Français en dessous
Join me for a magical Kundalini Energy Activation session, in the beautiful dome at House of the Rising Mojo ✨.
My instagram for more infos : sofia.soane & soane.awakening Testimonials : here
🇬🇧 KUNDALINI ACTIVATION TRANSMISSION
What is Kundalini energy and a transmission ?
Kundalini energy is a form of energy that lies at the base of our spine.
It is considered to be "asleep" in most people, but can be "awakened" by practicing certain techniques: energy transmissions, yoga, meditation etc. It's Life force energy combined to pure consciousness. Kundalini energy is often pictured as a snake coiled at the base of the spine, which, when awakened, will travel up the spine and activate our different energy chakras.
Awakening our Kundalini energy connects each of us to our true essence; but more importantly, it allows us to live our daily lives with greater joy, alignment, creativity and fulfillment.
A "Kundalini activation transmission" is a direct energy transmission that activates the process of awakening your Kundalini. During a transmission,you lie down on a yoga mat, relax, and experience an hour of music during which I hold a specific energy frequency. All you have to do is "surrender" and allow yourself to experience what needs to be experienced.
What happens during a session ?
It's important to keep your eyes closed during the entire session. If you want, you can use an eye mask to help you surrender and keep your eyes clothed. And then let the magic happen… with no expectations, allow whatever arises to be experienced and expressed.
There are many ways your kundalini energy can express : tingling sensation, heat and cold sensations, movements, danse, emotions, laugh, cry, scream, astral journey, inner knowing, messages, stillness ... No matter what the reaction is, the most important thing is not to analyze it and just be in the present moment and let what needs to be just "be". You are safe and the energy will give you exactly what you need.
Everyone is more or less sensitive to this energy and we are all different about how much we can surrender. Beliefs, masks, programming , our own conditioning , shields and armour we have put on ourselves is what prevents us from experiencing. Be present , allow, surrender , let go and be open to a new experience with no expectations. Be kind to yourself, it may take your system some time to attune to the high frequency and that's totally ok.
Kundalini awakening is a lifetime process, and each session will be a unique experience.
** Prepare for your session **
Plan to wear loose, comfortable clothing ; preferably light colors.
Try to avoid metal fasteners or snaps.
Eat lightly (not at all is best) at least 3 hours before your session. If you're really hungry, a light snack like fruit or nuts is fine.
48h before: avoid meat and junk food, coffee, tea, alcohol.
It 's imperative not to take any substances/drugs 48 hours before and after the session.
During the entire session, your eyes will be closed. You can bring an eye mask to help you relax more deeply.
Some benefits of Kundalini energy
Mental clarity for life choices
Better emotions management
Lower stress & anxiety
Increased vitality & inner fire
Increase your power of intuition
True alignment
Letting go & surrendering to the beauty of life
Traumas healing
Energetic clearing & harmonization
Expansion of consciousness
Opening to the subtle worlds
Activation of your spiritual gifts
CONTRAINDICATIONS
Do not take drugs, medicines, psychedelics, alcohol, tobacco... at least 48 hours before and after the transmission.
The transmission is not adapted to children under 18 years old.
The transmission is not suitable for pregnant women under 3 months or over 6 months of pregnancy.
The transmission is not adapted to people suffering from severe mental illnesses / heavy medication treatments.
About me :
I am Sofia, a Kundalini Energy Facilitator.
But before that, I used to work in marketing and also owned a clothing brand in Bali. During that time, I would not have called myself an especially spiritual person. Then one day, it all shifted. After experiencing my first Kundalini Activation transmission (that I only attended to support my friend) my life was completely turned upside overnight. My experience was so revealing and intense. I experienced this deep inner knowing that I was meant to work with this energy and share it with others.
Ten sessions later, my responsiveness to this energy became so strong that I started to spontaneously share this energy with people around me. This felt like a profound confirmation from the universe that my life had to change; that I wanted to dedicate myself to sharing this energy, to guiding people into their own Kundalini experiences and life transformations. In 2022, I moved back to Europe and completed a Kundalini Activation Facilitator training in Spain with two incredible sisters named Anabel and Tania (Ksisters). With the focus of deepening my relationship and understanding of this magical, sacred energy that I now hold space for.
My greatest joy today is supporting and accompanying people just like you on your own awakening. To support you in experiencing this powerful sacred activation of your own life force energy.
Please read the Terms and conditions of Sale. Buy confirming your order, you automatically agree to the Terms and conditions of Sale.
---------------------------------
Mon instagram pour plus d'infos : soane.awakening & sofia.soaneRetours d'expériences : Ici
🇫🇷 TRANSMISSION "KUNDALINI ACTIVATION"
L'énergie Kundalini est une énergie naturelle, divine et guérisseuse qui se trouve dans chacun de nous. Une fois éveillée, elle conduit à une connexion profonde avec notre conscience pure, sans artifices, afin d'être en harmonie totale avec soi-même .
Une fois éveillée, cette énergie apporte beauté et félicité dans toutes les facettes de notre être. L'énergie Kundalini est notre connexion directe à "la Source, à l'Univers, au Créateur, à Dieu..." quel que soit le contexte / le nom que chacun et chacune souhaite lui donner.
Eveiller son énergie Kundalini connecte chacun d'entre nous à quelque chose de plus grand ; mais plus important encore, elle nous permet de vivre notre vie quotidienne avec un maximum de joie, d'abondance, d'alignement et d'épanouissement.
# Descriptif d'une transmission de 'Kundalini activation" ?
Une transmission d'éveil de Kundalini activation est une transmission directe de l'énergie Kundalini qui va venir éveiller votre propre énergie Kundalini qui, je le rappelle, est présente en chacun d'entre nous.
L'énergie Kundalini est une énergie très intelligente et "safe" qui va venir éveiller ce dont votre système a besoin ; chaque séance est unique et apportera une profonde connexion émotionnelle et spirituelle qui est souvent inaccessible avec d'autres pratiques.
ll est important de noter que la transmission de l'énergie Kundalini est la voie de l'abandon (et non la voie de la volonté) et cet état d'abandon crée un espace unique pour la guérison, des états de conscience plus élevés, un éveil spirituel et une connexion plus profonde avec vous-même, votre véritable essence et l'univers.
# Que se passe-t-il pendant la séance ?
Il vous suffit de vous allonger sur un tapis de yoga, de vous détendre et de vous abandonner complètement. Encore une fois, s'abandonner, se détendre et mettre le mental de côté est la chose la plus importante à savoir sur cette transmission car il n'y a rien à "faire". De la musique sera jouée et je maintiendrai l'espace avec une fréquence d'énergie spécifique ; ce qui permettra à votre propre énergie kundalini de s'éveiller. Il est important de garder les yeux fermés pendant toute la séance. Si vous le souhaitez, vous pouvez utiliser un masque pour les yeux pour vous aider à vous abandonner et à garder les yeux fermés.
Et ensuite, laissez la magie opérer... sans attentes. Permettez à tout ce qui se présente d'être expérimenté et exprimé. Votre énergie kundalini peut s'exprimer de nombreuses façons : sensation de picotement, chaleur et froid, mouvements, danse, émotions, rire, pleurs, cris, voyage astral, connaissance intérieure, messages, immobilité...
Quelle que soit la réaction, la chose la plus importante est de ne pas l'analyser et de rester dans le moment et de laisser ce qui doit être "être". Vous êtes en sécurité et l'énergie vous donnera ce dont vous avez besoin..
** Préparez-vous pour votre séance **
Prévoyez de porter des vêtements amples et confortables, de préférence de couleur claire. Essayez d'éviter les fermetures métalliques / boutons-pression.
Mangez légèrement (de préférence pas du tout) au moins 3h avant la séance. Si vous avez vraiment faim, un snack léger comme un fruit ou des noix est possible.
48h avant : évitez la viande et la "malbouffe", le café, le thé, l'alcool. Il est impératif de ne pas prendre de substances, drogues ou de médicaments 48 heures avant et après la séance.
Vous pouvez apporter un masque pour les yeux afin de vous aider à vous détendre plus profondément. Pendant toute la séance, vos yeux seront fermés.
** Certains bienfaits d'une séance de Kundalini activation **
Plus de clarté dans la vie et une meilleure gestion des émotions
Etat de félicité, joie et bonheur intense
Augmentation de votre pouvoir d'intuition
Déblocage et libération des traumatismes émotionnels
Augmentation de votre énergie physique et changement de mauvaises habitudes
Diminution du stress et de l'anxiété
Connexion plus forte avec soi-même et au monde
"High" naturel
CONTRE-INDICATIONS
Ne pas prendre de drogues, médicaments, psychédéliques, alcool, tabac... au moins 48 heures avant et après la transmission.
La transmission n'est pas adaptée aux enfants de moins de 18 ans.
La transmission n'est pas adaptée aux femmes enceintes de moins de 3 mois ou de plus de 6 mois de grossesse.
La transmission n'est pas adaptée aux personnes souffrant de maladies mentales sévères / traitements médicamenteux lourds.
Merci de lire les Terms and conditions of Sale. En confirmant votre commande, vous approuvez automatiquement ces Conditions générales de ventes.
A PROPOS DE MOI
Je suis Sofia, Facilitatrice en énergie Kundalini.
Après avoir vécu ma première transmission de Kundalini activation, ma vie fût changée et bouleversée du jour au lendemain. Je savais... ma connexion et mon expérience fût tellement divine que j'ai su instantanément que ma mission de vie était d'aider et de participer à l'éveil des consciences. Ce fut l'expérience la plus intense et la plus révélatrice de toute ma vie. Séance après séance, mon éveil devenait de plus en plus intense et la canalisation de cette énergie fût spontanée. C'était la confirmation de tout.
J'ai suivi une formation avec les incroyables Ksisters (Anabel et Tania) afin d'en apprendre davantage sur l'énergie, et je peux maintenant réaliser pleinement ce partage de magie, ce partage d'énergie sacrée avec vous. Ma plus grande joie est de vous soutenir et de vous accompagner dans votre propre éveil.
A bientôt belles âmes ✨
Mon IG : https://www.instagram.com/sofia.soane/