Sales Have Ended
Registrations are closed
Thanks for registering! See you Paris!!
Sales Have Ended
Registrations are closed
Thanks for registering! See you Paris!!
Description
Update: The program is announced!
Three major axis to articulate our work and discussion:

1-Who/Where/What? DIYbio in Europe. Will be mainly composed of short presentations (few minutes) from biohackers and representative of bio-hackspaces (skype conferences will be held at this time) and a round table to give a better view of the participants and also exposing the motivations of the present people to be part of this meeting (Presenting personal projects, Meet fellow biohackers, Creating new bio-labspace, Being simply curious,...).
2- What projects for DIYbio Europe? The goal of this second part is to come with ideas and concepts of innovative projects that could be implemented right away in the DIYbio Europe community. This part will be animated by Makesense, social activists group that will help us make our brainstorming workshops more productive.
3- DIYbio Europe, virtual community or formal organization? During this last session we will draw the foundation of what could become the first european community of amateur biologists! It will again take the shape of a workshop in which participants will get together according to their affinities and try to make a formal, argumented proposition in front of everyone by the end of the session.

The program should then be as followed:

10am-10.15am: Welcome/Coffee
10.15am-12.15am: First Session (Who/Where/What? DIYbio in Europe.)
12.15am-1pm: Lunch
1pm-3.30pm: Second Session (What projects for DIYbio Europe?)
3.30pm-3.45pm: Coffee break
3.45pm-5.45pm: Third Session (DIYbio Europe, virtual community or formal organization?)
5.45pm-6pm: Closing Remarks

Night Event: Still to be announced. Would be great to get together for fine french food and wine :)
Foundation of a European DIYbio (Do-it-yourself Biology) community
On the first weekend of december in Paris (France) is organized the first meeting dedicated to the creation of a European DIYbio community, hosted by the french DIYbio group La Paillasse. This meeting or workshop will be the first of its kind, and will be followed by other ones thoughout Europe during the year 2013. We wish to bring together european actors already involved or that desire to be involved with DIYbio in order to build together the future European Community of amateur biologists.
The challenges here are great. We wish to create a physical and virtual framework that DIYbio labs and amateurs can use for mounting large projects and collaboration. We each have our history and personality and originality, this individuality should be conserved while stronger collaboration should be fostered.
During this workshop, we will try to answer the following questions:
- What are the advantages of creating a (in)formal DIYbio Europe organization? What kind of help should this organization provide to the local DIYbio labs and amateurs?
- What shape should this organization take ? (informal, association, foundation,...)
- What projects would you like to do that would better benefit from being deployed at a European scale?
- What kind of interface between the DIYbio.Eu organization and the local groups?
- What kind of funds? European Commision? Crowdfunding? Membership?
We will share the first day between short presentation of local groups and external participants and small workshops during which participants will work on answering the precedent questions. The workshops will take the shape of hold-up and be animated by activists from the MakeSense social open project (To be confirmed). The second day will be used for visiting the biohackspace La Paillasse and is free in term of organization.
We are still looking for an appropriate representant of the European Commission that would help us to understand how DIYbio projects could be selected for european fundings and what are the current opportunities for us.
We hope to see you on the 1st of december in windy Paris so that we can start building a more global and more strong community of amateur biologists in Europe. Exciting times!!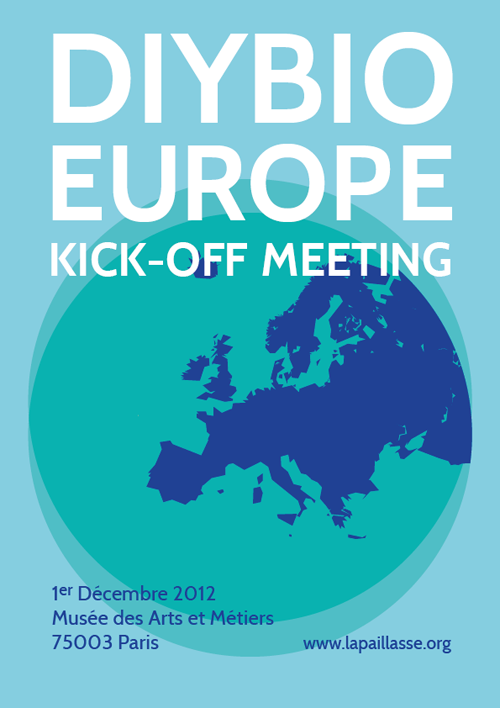 Organizer of Kick-off meeting DIYbio-Europe