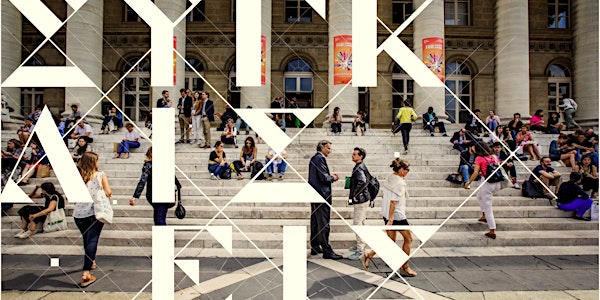 Join the Convergences Greece Forum in Athens on April 2nd !
When and where
Location
Athens The HUB EVENTS Alkminis 5 118 54 Athens Greece
Description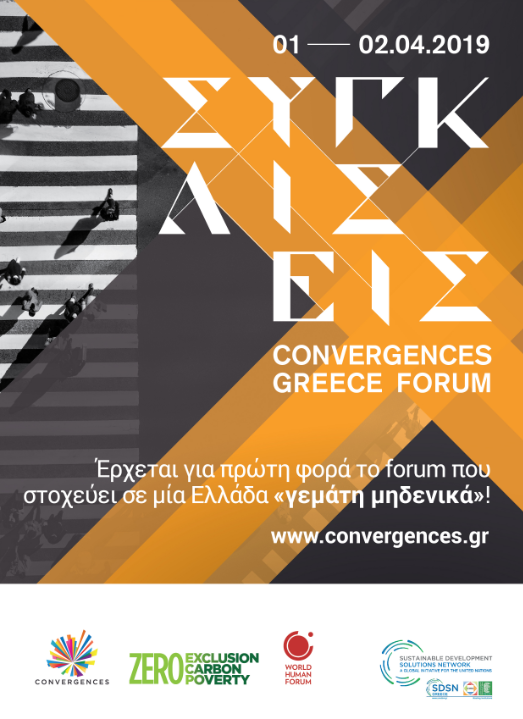 [In English below]
2 Απριλίου – Convergences Greece Forum / ΣΥΓΚΛΙΣΕΙΣ , The Hub Events - Αλκμήνης 5
9:30π.μ – 8:00 μ.μ.
Είστε επιχειρηματίας, ακαδημαϊκός, φοιτητής, startupper, κοινωνικός επιχειρηματίας, ειδικός σε θέματα ΕΚΕ, στέλεχος του ιδιωτικού τομέα, εργαζόμενος στον δημόσιο τομέα ή απλώς ένας άνθρωπος σαν εμάς, που θέλετε να ανακαλύψετε τις λύσεις για τα πιο σημαντικά προβλήματα που αντιμετωπίζει η χώρα μας; Τότε μην χάσετε το φετινό Convergences Greece Forum / ΣΥΓΚΛΙΣΕΙΣ!
Το Convergences και το World Human Forum σε συνεργασία με το SDSN Greece ενώνουν τις δυνάμεις τους και παρουσιάζουν το 1ο Convergences Greece Forum/ΣΥΓΚΛΙΣΕΙΣ , το forum για την καινοτομία, την κοινωνική οικονομία και την βιώσιμη ανάπτυξη!
Αν θέλετε να μάθετε περισσότερα για τους Στόχους Βιώσιμης Ανάπτυξης και τις δράσεις που συμβάλλουν προς ένα κόσμο με ΜΗΔΕΝ Αποκλεισμό, ΜΗΔΕΝ Αποτύπωμα Άνθρακα, ΜΗΔΕΝ Φτώχεια τότε γίνετε μέρος του forum και συμβάλλετε κι εσείς με την σειρά σας, ώστε να γίνει η Ελλάδα μία χώρα γεμάτη "μηδενικά"!

Όλοι, για πρώτη φορά, γύρω από ένα τραπέζι!
Αν για παράδειγμα το θέμα της συνεδρίας είναι η μόλυνση από το πλαστικό, στο ίδιο panel θα βρίσκονται από εκπρόσωποι των εταιρειών που παράγουν και χρησιμοποιούν το πλαστικό, μέχρι περιβαλλοντολόγοι, ακτιβιστές και άνθρωποι που έχουν βρει πρακτικές λύσεις για την αντικατάσταση ή την επαναχρησιμοποίησή του. Στόχος; Όχι η διαιώνιση του προβλήματος, αλλά η σύγκλιση όλων των απόψεων για την εύρεση λύσεων!

Το πρόγραμμα του forum αποτελείται από έναν μεγάλο αριθμό διαδραστικών και δυναμικών συνεδριών και εργαστηρίων, γύρω από τα «3 μηδενικά», αλλά με ιδιαίτερη στόχευση φέτος στον Στόχο Ν.11 των Ηνωμένων Εθνών «Βιώσιμες Πόλεις και Κοινότητες». Την παράσταση θα κλέψει και το διαδραστικό Marketplace, όπου θα παρουσιαστούν start ups με κοινωνικό ή περιβαλλοντικό αποτύπωμα, μη κερδοσκοπικές οργανώσεις, πρωτοβουλίες και εταιρείες με κοινωνική ευθύνη!
Είσοδος ελεύθερη. Απαιτείται προεγγραφή.
*Το τελικό πρόγραμμα θα ανακοινωθεί σύντομα.
Εάν επιθυμείτε, μπορείτε να εγγραφείτε και στην εναρκτήρια εκδήλωση που θα πραγματοποιηθεί Δευτέρα 1 Απριλίου, στο Δημοτικό Μουσικό Θέατρο Ολύμπια «Μαρία Κάλλας». Για περισσότερες πληροφορίες πατήστε εδώ.--> https://www.eventbrite.fr/e/opening-night-of-the-convergences-greece-forum-on-april-1st-tickets-56647415946

------------------------------------------------------------------------------------
April 2nd – Convergences Greece Forum , The Hub Events / 5 Alkminis str.
9:30 am – 8:00 pm
Are you an entrepreneur, an academic, a student, a startupper, a social entrepreneur, a CSR expert, an executive working in the private sector, an employee in the public sector or just a man or a woman like us, wanting to find solutions to the most important problems that Greece is facing?
If you answered yes in one of the above do not miss the first Convergences Greece Forum!

Join us in order to create a sustainable 3Zero Greece! Zero Exclusion – Zero Carbon – Zero poverty.
The Forum will offer a wide variety of dynamic and interactive sessions & workshops to identify and create together concrete solutions for our cities & communities.
Everyone around the same table!
For example, if the topic of the session is plastic pollution, the panel will consist of representatives of the companies that produce and use plastic, as well as environmentalists, activists and people who have found practical solutions to replace or reuse it! The objective? The convergences of viewpoints on the most important problems the country is facing!
The program consists of a large number of interactive and dynamic sessions and workshops around the "3 zeros", but with particular focus this year on the UN Sustainable Development Goal N.11 "Sustainable Cities and Communities". You will also have the chance to visit the Marketplace and meet startups with social or environmental footprint, non-profit organizations, initiatives and companies with social responsibility!

Free Entrance. Registration is required.
*Final agenda released soon
You can also register for the Opening Event of the Convergences Greece Forum, which will take place at the historic Olympia Theater on April 1st at 19:30. Please click here for more information --> https://www.eventbrite.fr/e/opening-night-of-the-convergences-greece-forum-on-april-1st-tickets-56647415946