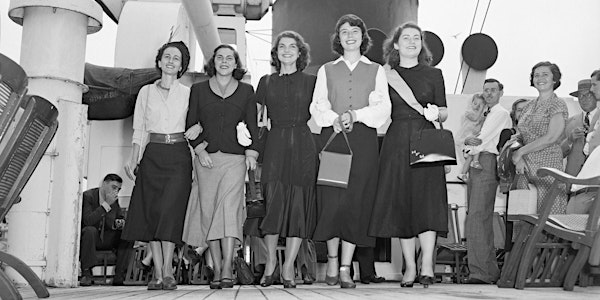 Jacqueline in Paris by Ann Mah: The Transformative Power of Studying Abroad
Launch of Jacqueline in Paris, the latest novel by bestselling author Ann Mah.
By Columbia Global Centers | Paris
Date and time
Starts on Saturday, June 17 · 7pm CEST
Location
Reid Hall 4 Rue de Chevreuse 75006 Paris France
About this event
1 hour 30 minutes

Mobile eTicket
This event was postponed from its original March 7 date due to strikes in Paris.
---
"One of the most rewarding periods of my life was my Junior Year in Paris with the Smith group. I found that the knowledge of a foreign language, acquired by any student who is fortunate enough to study abroad, has an immeasurable and lasting effect on their life." – Jacqueline Bouvier, November 1961
Columbia Global Centers | Paris, Smith College Paris, and the Smith College Club of France host the launch of Jacqueline in Paris, the latest novel by bestselling author Ann Mah.
Robin Silver, President of the Smith College Club of France, will open the evening with remarks on "Junior Year Abroad as Discovery and Transformation." Brunhilde Biebuyck, Director of Columbia Global Centers | Paris, will then speak on "The History of Reid Hall: Artists, Radicals, and Visionaries," followed by remarks and a reading of Jacqueline in Paris by Janet Skeslien Charles, author of the bestselling book The Paris Library. The event will conclude with a moderated discussion and Q&A with invited guests by Pauline Lemasson, Development Chair of AAWE. The evening's speakers will explore and expand on the transformative power of Paris – how even a single year in the City of Lights can greatly influence one's life, as it did for Jacqueline Bouvier before she became First Lady.
A light champagne reception will follow the evening's program. The Red Wheelbarrow Bookstore will have copies of Jacqueline in Paris for sale.
About the book
In August 1949, Jacqueline Bouvier arrives in postwar Paris to begin her junior year abroad as a Smith College student. She's twenty years old, socially poised but financially precarious. Jacqueline is immediately catapulted into an intoxicating new world of champagne and châteaux, art and avant-garde theater, cafés and jazz clubs. But beneath the glitter and rush, France is a fragile place still haunted by WWII and the Occupation. Jacqueline lives in a rambling apartment with a widowed countess and her daughters, all of whom suffered as having been part of the French Resistance just a few years before. Evocative, sensitive, and rich in historic detail, Ann Mah's novel brilliantly imagines the intellectual and aesthetic awakening of Jacqueline Bouvier Kennedy Onassis, illuminating how France would prove to be her one true love, and one of the greatest influences on her life. It was chosen by the US Embassy Paris CLO Book of the Month Club for November 2022.
Hosted by Columbia Global Centers | Paris, Smith College Paris, and the Smith College Club of France with the partnership of the U.S. Embassy Community Liason Office (CLO), the Association of American Women in Europe (AAWE), INSPIRELLE, and The American Library in Paris.
About the organizer
For nearly sixty years, Columbia University students and faculty have come to study, teach, and pursue their research at Reid Hall, an educational hub at the forefront of international education and cultural exchanges.
Today, Reid Hall is the home of several Columbia University initiatives: Global Centers | Paris, Undergraduate Global Engagement, Masters in History and Literature, and the Institute for Ideas and Imagination. This unique combination of resources is enhanced by the Center's global network whose mission is to broaden the University's engagement with the world through educational programs, research collaborations, regional partnerships, and public programming that addresses pressing global issues.