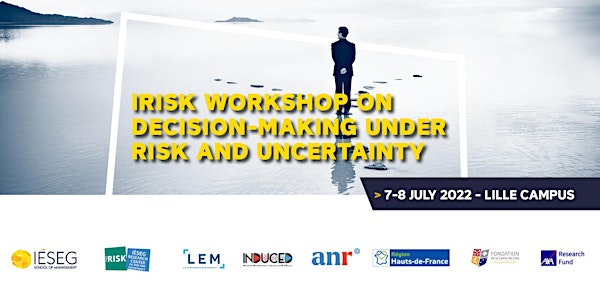 iRisk Workshop: DECISION-MAKING UNDER RISK AND UNCERTAINTY
IÉSEG School of Management will hold a multidisciplinary workshop on decision-making under risk and uncertainty (in English)
When and where
Location
IESEG School of Management 7 Rue Solférino 59800 Lille France
About this event
**Registration is free but compulsory**
[iRisk Research Workshop] DECISION-MAKING UNDER RISK AND UNCERTAINTY
General schedule:
Part I (Scientific) - Thursday, July 7 (12.30-18.30) & Friday, July 8, 2022 (09.00-12.30)
Part II (Open to the public) - Friday, July 8, 2022 (13.30-14.45)
To celebrate the launch of iRisk, its new research center, IÉSEG School of Management will hold a multidisciplinary workshop on decision-making under risk and uncertainty. Because the creation of the iRisk center would not have been possible without Professor Louis Eeckhoudt, this workshop is also a unique occasion to celebrate Louis' career and contributions to decision theory and the economics of risk.
The workshop in Louis' honor will gather industry, policymakers, and academic participants and promote dialogs between theory, experimental findings, and applications (in the sense of actual decision-making or the construction of theoretical or empirical models in the social sciences).
All invited talks will be given by leading experts in their respective fields. Theoretical talks will provide new theoretical models focusing on a real-world application and/or on how to make these models relevant in the real world. Fields of practical applications and real-world examples of decision-making include climate change, health, data science, finance, psychology, artificial intelligence, and economics, among others.
>> MORE INFO