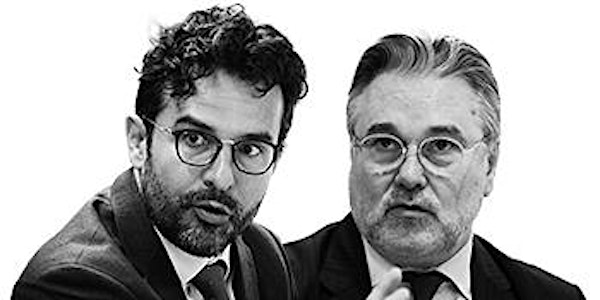 Interview with Paul Csiszar (DG COMP): Restrictive trade practices in the f...
Event Information
Location
Ministry for the Economy and Finance
Pierre Mendès France Conference Center
139 rue de Bercy
75012 Paris
France
Description
NEW FRONTIERS OF ANTITRUST
Restrictive trade practices in the food and retail sector: Is the end near, truly?
---
Interview with Paul Csiszar1
Director - Basic industries, Manufacturing and Agriculture

DG COMP, Brussels

---


Paul Csiszar (DG COMP) has been interviewed by Benoît Durand (RBB Economics) in anticipation of the 10th edition of the New Frontiers of Antitrust conference organised by Concurrences review in partnership with ESSEC Business School and University Paris II - Panthéon-Assas.
They will both join the third panel dedicated to restrictive trade practices in the food and retail sector, together with Virginie Beaumeunier (DGCCRF), Richard Panquiault (ILEC) and Daniel Fasquelle (French National Parliament).

To read the full program and register, click here.
---

In the new EU directive that aims to ensure fairer treatment for farmers and small and medium sized food businesses who are vulnerable to unfair treatment by their big business partners, such as supermarkets or retailers, some might say that the scope of "unfair trading practices" appear to be defined too narrowly. After all, it is argued that smaller suppliers often lack bargaining power in negotiations with large purchasers and may not have alternatives buyers. Is the directive going far enough to redress the imbalance?
First of all it seems important to note that there are varied views about what is unfair and what is fair. In addition even if one party to a transaction considers that something is unfair, like the price of the transaction, there can be external reasons for that element (e.g. oversupply leading to prices below costs), and it is questionable whether a regulation should decide that element (the price) in a market-based economy.
The Directive does not prohibit unfair trading practices in general, but targets those practices which were identified at EU level as the most damaging practices that stakeholders reported as being unfair. The list of unfair trading practices has been very carefully tailored in order not to prevent trading partners from engaging in efficiency-enhancing agreements or trading conditions.
The Directive prohibits 16 specific unfair trading practices. It distinguishes between "black" and "grey" practices. Ten black unfair trading practices are prohibited whatever the circumstances. Six grey practices are allowed if the supplier and the buyer agree on them beforehand in a clear and unambiguous manner. The obligation to agree clearly and unambiguously aims to provide transparency and predictability: both parties know what they signed up to and what their rights and obligations are.
In respecting the principle of subsidiarity and in view of existing laws in many Member States, the Directive only provides minimum harmonisation across the Member States. This means that Member States, when transposing the Directive into their national law, can choose to be stricter than the Directive and go beyond its scope both in terms of unfair trading practices and operators protected.
However, extending the blacklist of prohibited practices may also harm farmers and SME suppliers as it may lead to over-enforcement and prohibit efficiency-enhancing commercial practices in the supply chain. It risks banning practices that could render a commercial transaction more efficient from the trading partners' point of view and reducing the total gains from the transaction, including for farmers and SME suppliers.

The French law "Egalim" was adopted in 2018, with the objective of essentially establishing fairness between food producers and retailers, as the latter have been perceived as using unfair trading practices in order to enrich themselves on the backs of ordinary farmers. In the name of "giving back to the farmers", the law is imposing on retailers to raise the price floor (retailers must make 10% margin on certain groceries, fresh produce, beverages and animal feed). In other terms, the law is essentially restricting competition between retailers. Doesn't this show that the objective of guaranteeing a minimum profit for suppliers is not compatible with competition?
The questions seems to mix the issues of Regulating "Unfair trading practices" and profits for producers. These issues are not however the same. Regulating "Unfair trading practices" usually amounts to stopping practices that create costs or uncertainty for the smaller party, they only concern partly the profits of operators. Profits of operators depend on many factors (market developments, added value in products, access to markets/distribution networks, etc) that can have larger impacts on profits than the practice of one or more partners. In that sense I don't know if one can talk about guaranteed profits for any sector.
Intervening in markets to manage profits is a complicated and risky task. The French law "Egalim" raises interesting questions in that regard.

The French Autorité de la Concurrence delivered a skeptical Opinion on the legal texts that aimed to increase the level below which sales cannot take place and that intended to limit the share of promotions.

Such intervention can indeed first NOT achieve the intended aim. Increasing margins may benefit intermediaries (wholesalers, processors) who would have little incentives to pass on to smaller suppliers upstream.

Such intervention may even have contrary effects. Retailers may even have to put more pressure on their suppliers if they want to keep final prices unchanged for products that they were selling at less than 10% margins.



That does not mean that one cannot help small suppliers. For instance regarding small farmers the EU supports (including through financial support) the creation of integrated Producer organisations that provide added value to the products of farmers and improve their bargaining position by giving them supporting services (transport, storage, processing, packaging etc). We published last year a study that showed that farmers themselves consider that this is what improves their bargaining position in a sustainable way. EU law also encourages the development of price indices that help producers negotiate a more-informed price.

What would be the most effective way to eliminate unfair trade practices? Would you consider breaking up international buying groups of retailers to reduce their buyer power, and thus their ability to impose unfair trade practices on farmers and small and medium sized food businesses?
It seems important to repeat that there are varied views about what is unfair and what is fair. In addition, even if one party to a transaction considers that something is unfair, like the price of the transaction, there can be external reasons for that element (e.g. oversupply leading to prices below costs), and it is questionable whether a regulation should decide that element (the price) in a market-based economy.
Joint purchasing arrangements such as buying alliances of retailers are not as such unfair. Similar groupings of farmers that purchase their inputs together are allowed and even encouraged at EU level.
It is not the retail alliance itself which may be unfair but the practices which such alliances may impose on their counterparts in commercial transactions in the food supply chain. The conduct of these buying alliances of retailers will be covered by the future Directive on unfair trading practices.
These international alliances do not deal directly with farmers or SMEs. International buying alliances of retailers negotiate with large international brand manufacturers that are providing a wide range of products across several markets.
In addition, buying alliances of retailers are caught by EU competition rules. The Commission [through investigations made public in 2017] and national competition authorities are actively looking into the negative effects of large alliances of retailers on competition and consumers.
1 The views expressed in this presentation are those of the author and do not necessarily represent those of the institutions to which he is affiliated.
Date and time
Location
Ministry for the Economy and Finance
Pierre Mendès France Conference Center
139 rue de Bercy
75012 Paris
France