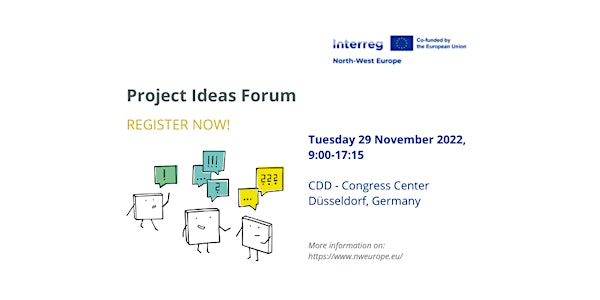 Interreg NWE Project Ideas Forum
An opportunity to find out more about Interreg NWE expectations for call 2, discuss your project idea and connect with potential partners!
When and where
Location
CCD Congress Center Düsseldorf - Düsseldorf Congress Stadthalle, Rotterdamer Str. 141 40474 Düsseldorf Germany
About this event
Join us in Düsseldorf, DE on 29 November to maximise your chances for success in Call 2!
The time has finally come to meet in person again… This transnational event will be an opportunity to:
Find out about Programme's expectations for call 2
Learn more about Interreg North-West Europe (NWE) and its thematic priorities
Network and connect with potential partners
Present your project idea and develop it further
Meet and exchange with representatives of Interreg (NWE).
All sessions are designed to help you prepare your application for call 2. The second NWE call for project proposals will open on Jems (Joint electronic monitoring system) on 14 November and close on 9 February 2023. Proposals can be submitted under all 5 Programme thematic priorities.
If you have a project idea, it can be displayed during our all-day exhibition of project ideas posters. You will also have the opportunity to meet up with interested participants in the afternoon and discuss and develop your idea further. Let us know if you wish to do so in the registration form*.
You can also sign up for a coaching session with your national/regional Contact Point to get feedback on your project idea and build your partnership.
*Templates with instructions will be sent via email. Please indicate during registration if you would like to submit a project poster.
Have a look at the detailed agenda of the event here.
This one-day event is open to all Interreg NWE potential applicants and other stakeholders interested in our 2021-2027 programme.
Ahead of the event, join our online community to add or browse project ideas and start interacting!
Venue
When: Tuesday, 29 November 2022, from 9:00 to 17:15
Where: CCD Congress Centre Düsseldorf
Stadthalle, Rotterdamer Str. 141
Düsseldorf, NRW, 40474
Deadline for registrations: 15 November 2022