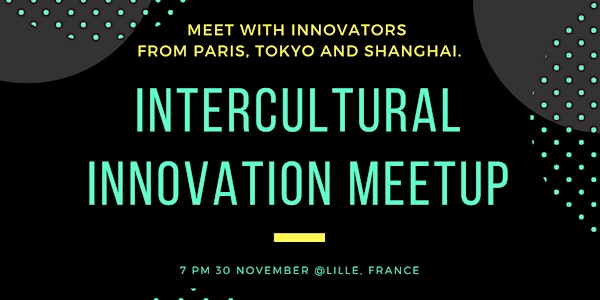 Intercultural Innovation Meetup
Location
La Boulangerie Bar
28 Rue des Postes
59000 Lille
France
Description
Hello !
We are Georges and Snow! Georges comes from Lille, France, who is keen of entrepreneurship, new technologies and user experience. He worked as a consultant at Capgemini Consulting and created his first startup, Tankyou, when he was 26. Snow comes from Shanghai, China, who shows great passion about innovation and creative processes, like design thinking and design sprint. Now, Snow is studying at EDHEC business school in Lille.
Georges and Snow are at the same time as they are the bottom of intercultural community and innovation. They are also interested in innovation, creative design, and creative processes to join together and share experience and stories.
"Intercultural Innovation Meetup" is the first event organized by Georges and Snow. Speakers are designers and product experts from Tokyo, Paris, Lille and Shanghai. You will not miss it!

1. Mathilde Adriaenssens | Founder of Keyuz
Topic: Unsuspected efficiency of design in France
Mathilde is the founder of Keyuz innovation consulting firm. She has over 10 years of experience in design and innovation in large groups such as the Conforma and Kingfisher, and as a professor at the Eureka School of Design. She has developed a method and strong skills in collaborative innovation and creative development process. Keyuz is today one of the best innovation consulting firms in the Hauts-de-France region. Besides, she created the "Design Thinking for Entrepreneurs" group which gathers near 1.000 people.
2. Matthieu Dutter | Vice President Product of eYeka
Topic: How are brands using collective intelligence to innovate in product and marketing?
Matthieu has over ten years' experience leading product organizations with expertise in B2B SaaS Solutions, Transactional UX and Online Marketing having designed and rolled out innovative solutions to customers in international contexts. Among his experiences Matthieu worked at FastBooking, a member of the Accor Hotel group and participated in the development of the twenga.
3. Snow Hu | Founder of Design Sprint China
Topic: How do we use design sprint to drive innovation in China?
Snow is the key organizer of Google Developer Groups since 2014 and was Google's specially VIP guest attending 2015 and 2017 GDG Global Summit and Google I / O conference. Snow focus on the product design and service design in the last 4 years by design and design thinking workshops. He is the leading sprint master in China and has facilitated hundreds of teams, like Johnson & Johnson, McDonald's and Deloitte.
4. Tomomi Sasaki | Partner of AQ
Topic: Stories of intercultural innovation from the eyes of a designer
Tomomi Sasaki is a partner at the Tokyo & Paris based AQ design studio, leading projects that deliver valuable digital products and services for customers around the world. In the past few years, she is one of the most innovative and successful professionals. Say hi on Twitter @tzs.



Mathilde Adriaenssens

Keyuz

Founder

Matthieu Dutter

eYeka

Vice President Product

Snow Hu

Design Sprint China

Founder

Tomomi Sasaki

AQ

Partner