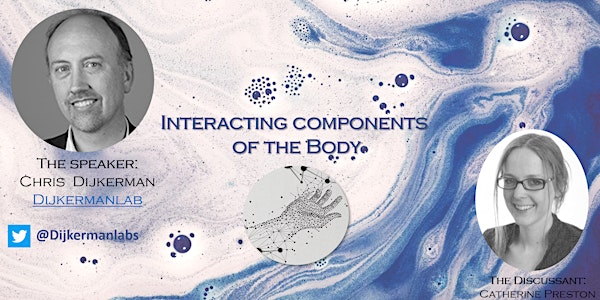 Interacting components of body perception
1st free E-seminar free from BRNet, an international network of researchers investigating body representation (neuroscience and psychology)
About this event
About our speaker: Chris Dijkerman is a neuropsychologist working on sensory processing for perception and the guidance of action. Specifically he is known for his research in somatosensory processing and its focus on touch, pain and itch perception, peripersonal space and visual control of action.
Prof. Dijkerman gained his PhD, working in London and Oxford on sensorimotor consequences of hemispherectomy under supervision of Prof. Larry Weiskrantz and Prof. Faraneh Vargha-Khadem. Next, he spent a year at Frenchay Hospital in Bristol investigating outcome after stroke rehabilitation after which he moved to St. Andrews University to work as a postdoc with Prof. David Milner on visual perception and action. In 2000, he started at Utrecht University, where he has been appointed as professor of Neuropsychology in 2012. Dijkermanlab
Summary: An important function of the somatosensory system is to provide information about our body. Different aspects of the body can be perceived, such as the size of body parts (metric body perception), affective aspects like pain and pleasant touch (affective body perception), the experience of owning your body (body ownership) and the perception of the body structure (structural body perception). In our recent review (De Haan & Dijkerman, 2020), we suggested that they are subserved by overlapping neural networks. This would suggest that these components are also functionally linked.
In this presentation, I will discuss evidence for the idea of functionally interdependent body perception components from studies in our lab. I will present studies with neurological and psychiatric patients as well as with healthy participants. These findings provide evidence for how different body perception components interact. This is not only of interest for understanding the functional organization of body perception, but also provides pointers for how to reduce body perception disturbances in various clinical groups.
About our Discussant: Catherine Preston completed a BSc in Psychology with Neuroscience at the University of Leicester in 2004 and then a Ph.D in Psychology at the University of Nottingham in 2008. After her Ph.D, Catherine stayed as a postdoc at the University of Nottingham until 2010 when she took a position as temporary lecturer at Nottingham Trent University. In 2011 Catherine then moved to the Karolinska Institutet in Stockholm where she won two fellowships, the Wenner Gren foreign researcher fellowship and Marie Curie Intra European Fellowship before starting her lectureship at the University of York in 2015.
About the E-Seminar organization: Following on from a series of meetings, we have established a more permanent Body Representation Network for the body rep community. Seminars will occur 3 times per year (Autumn /winter/ spring) with a format of 30 minutes presentation, 15 minutes by a discussant, 5 minutes of questions reserved for PhD and postdocs and 10 minutes of open questions.
GMT TIME: From 12 am to 1 pm (Country: UK..)
GMT + 1 TIME: From 1 pm to 2 pm (Country: France, Itlay, Spain, Netherlands, Germany, Switzerland...)