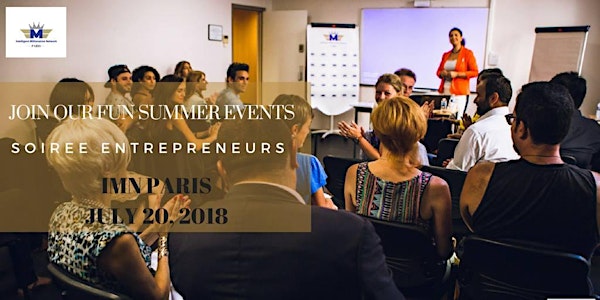 IMN Paris Private Event: July 20th Entrepreneur Afterwork-Members' special
Sales Have Ended
Registrations are closed
Perfect! Thank you and see you Friday 20th! We are eco-friendly so there is no need to print. Let's respect the environment together. IMN Paris Team
Sales Have Ended
Registrations are closed
Perfect! Thank you and see you Friday 20th! We are eco-friendly so there is no need to print. Let's respect the environment together. IMN Paris Team
Let's meet up for more than another social networking event! Have fun while still working in the business area of our life, IMN Paris style.
About this event
Be welcome to our 1st summer event of IMN Paris!
This is a registration only event with limited places and it's FREE !
Members have priority! Guests, make sure you secure your place !
Organizer of IMN Paris Private Event: July 20th Entrepreneur Afterwork-Members' special
The Intelligent Millionaires Network (IMN) Paris is the global and local NETWORK whose intention is to get you the tools, blueprint, speaking opportunities, support, and connections to get your business to the next level. If you are already successful, we support you to get you to that next level mark: first million, first ten million, or first 100 million.
The Intelligent Millionaires Network Paris is an ACCOUNTABILITY group that will not let you fail and that will help you become a more successful entrepreneur.
Our MISSION is to educate you by bringing in the best in the business speakers and content to give you the tools to help you and your business succeed.
We have 2 types of events on a monthly basis:
1. Formal events where we invite a high-level speaker to share from his experience on a variety of subjects (such as Bernard Bourigeaud - Atos founder, Bruce D. Schneider - founder of iPec, Fokion Tassoulas -  Executive Director of Titan Cement and co-founder of Ucandrone and many more to come)
2. Social events, specially designed to allow our members to network freely, where we welcome occasional IMN speakers (such as Unstoppable Tracy and many more to come). Our social events focus on a specific topic via thematic workshops animated by IMN Paris Members in their field of exertise.
We discuss MILLIONAIRE mindset and habits via case studies that allow us to connect with like-minded individuals and to find your next business partner, be it local or international, and to reach higher success. The past months we have studied millionaires such as Bill Gates, Nikola Tesla, Sara Blakely, Elon Musk, J Willard Marriott and many more to come.
Our events are FREE for Founding Members and Members of IMN Paris, International Members from IMN Partner Clubs and 1st-time Guests. Registration is highly encouraged for event preparation purposes. Places are limited though and will be attributed on a first arrived first served basis. Guests that are not ready yet to become a member have access to events with an Exceptional Guest ticket. If you want to bring a friend, please register them.
www.linkedin.com/company/imn-paris/